The day after giving a talk to the Military Officers Association
of SW Florida in Naples, I made a detour heading north
to find this Little Free Library, Charter #20562 in Bonita Springs
and donated my novel, Honors Rendered.
https://LittleFreeLibrary.org
[January 2018]
While at the Society of The Four Arts, I met Bob Vila
and heard about his work with Hemingway's home in Cuba
along with meeting Dave Gonzales
who is the curator of the Hemingway home in Key West.
[January 2018]
Before going to the Society of the Four Arts to experience
their exhibition, "The Art of Winston Churchill," I found
 Charter # 35670 neighborhood library in West Palm Beach, FL
to donate my novel The Assassin's Honor ~ give the gift of reading!
https://LittleFreeLibrary.org
[January 2018]
Merry Christmas to Little Free Libraries around the world,
 their readers and contributors [I'm proud to be one!].
Just wanted to spread a little more joy with
the gift of my novel: Honor Boundl!
https://LittleFreeLibrary.org
[December 2017]
With the season of giving upon us,
I find inspiration to continue my
Little Free Library Donation Tour,
this time in Ft. Myers, Florida adding my
novel, Honorable Lies to their rotating collection.
[December 2017]
I am sounding my trusty conch shell
at my annual holiday party at Bert's Pine Bay Gallery
celebrating my final Lee County event in 2017!
~ Best Holiday Wishes to All ~
[December 2017]
We gathered inside the Grand Masonic Lodge Museum in Havana,
Cuba with the Museum Director, Victor Avila, on our private
tour during this most remarkable Havana Reader Rendezvous!
[December 2017]
Couldn't resist posting another automobile photo
because our Havana Reader Rendezvous participants
thoroughly enjoyed their classic car ride through Havana,
Cuba in these gorgeous convertibles!
[December 2017]
This classic car was parked outside Divino Botanical
Garden Restaurant in Havana … You never know
what surprises await in Cuba! Won't you join
our adventurous group of travelers next time?
[December 2017]
At the birthplace of Cuban patriot, Jose Marti,
one of my heroes, standing by Marti's own desk,
I gathered with a group of my readers
who came with me to Havana & Cojimar, Cuba
for my  2017 Havana Reader Rendezvous,
which was a trip of a lifetime for everyone!
[December 2017]
As I continue to promote literacy,
my Little Free Library Donation Tour landed
me in Cape Coral, FL again at
Little Free Library charter # 57960
with my 8th novel, The Darkest Shade of Honor.
LittleFreeLibrary.org
[November 2017]
We put the "FUN" in Fundraiser for the Friends
of the Ft. Myers Library, as we explored the relationship
between Florida and Cuba and The Spanish-American War.
Yes, learning can be fun!
[October 2017]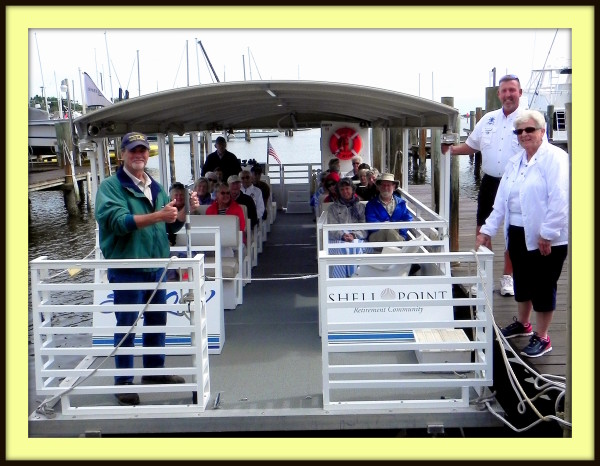 Out on the water today with Shell Point's
Academy On The Go enjoying a brisk day
with some wonderful adventure seekers, sharing stories
from history about "Soldiers, Sailors & Settlers."
[October 2017]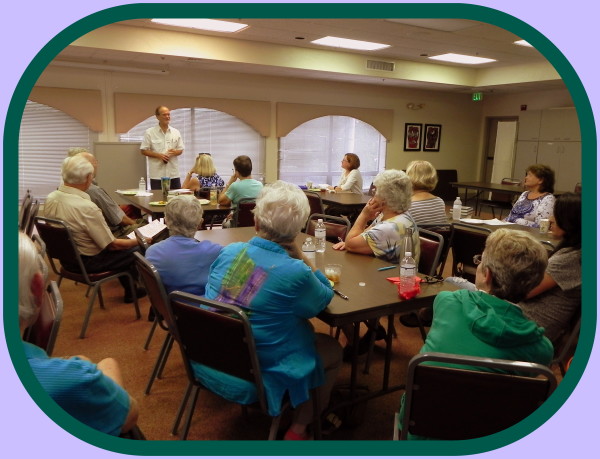 The Book Club at Covenant Presbyterian Church
took lots of notes & asked many questions
when I exchanged insights with them
after they all read my latest novel, An Honorable War.
[October 2017]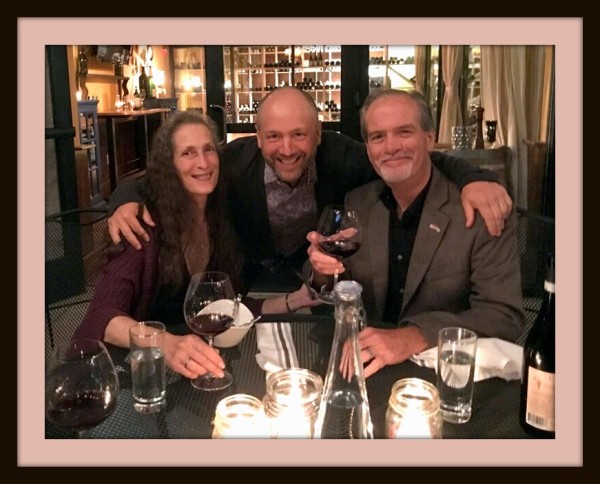 Thank you to Michael Dorf & his City Winery Nashville team
who know how to do it right!! Don't miss the chance
to hear great music, eat amazing food, and drink the best wine
when you are in Nashville or in any of the cities
where he has his fine establishments:
New York, Chicago, Atlanta & soon Boston.
Onward & Upward in style!
[October 2017]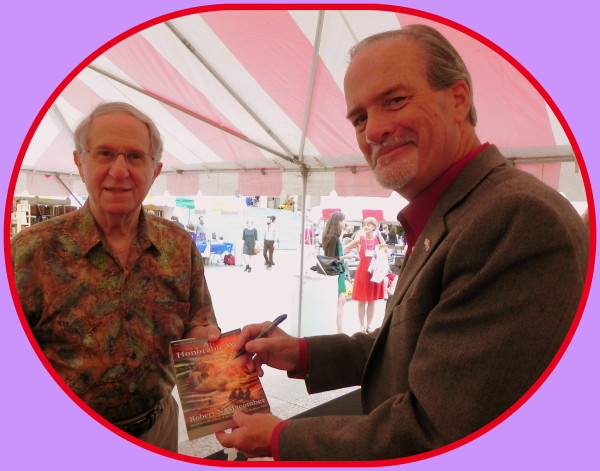 Proud to sign my novel, An Honorable War, for a former
Queen Mary II shipmate, friend and Wakian, Harry Nichol
at the Southern Festival of Books in Nashville, TN.
[October 2017]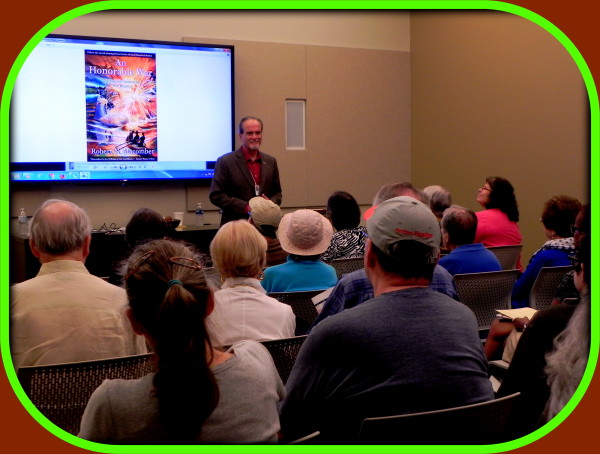 Giving my talk on my novel, An Honorable War,
and about the Spanish-American War at the
Southern Festival of Books in Nashville, TN.
[October 2017]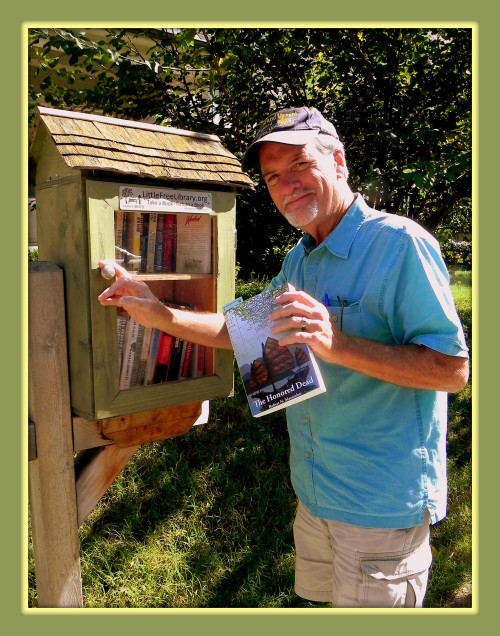 Happy to have a chance to donate to another great Little Free Library,
this time in Nashville, TN since I'm here for the Southern Festival of Books.
If you are nearby, I'll be giving my talk on my novel, An Honorable War,
at 4pm [Conf. rm #3] at the Nashville Public Library
on Church Street with a book signing to follow.
It's an amazing festival, with a diverse selection
of impressive presenters & interesting activities.
[October 2017]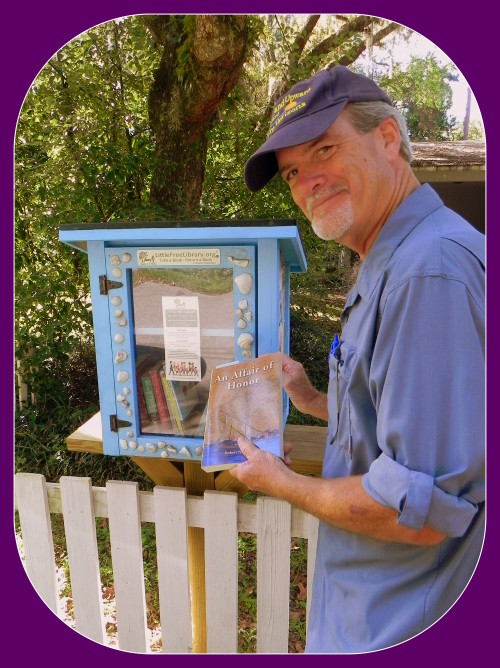 Another proud donation to a Little Free Library,
Charter # 51882, in Gainesville, FL adding
to their collection, An Affair of Honor, my novel
which takes readers to far flung places
like Italy and North Africa, to name a few ….
[October 2017]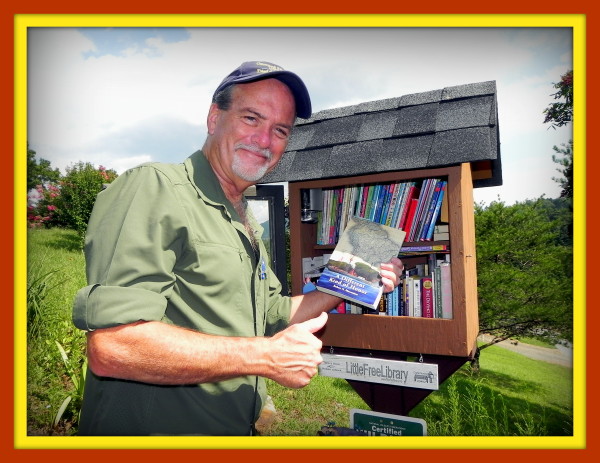 What better way to follow up a spectacular
Total Solar Eclipse than with another stop on my
Little Free Library donation tour in Murphy, NC!
This novel, A Different Kind of Honor,
won the American Library Association's
W. Y. Boyd Literary Award for Excellence.
[August 2017]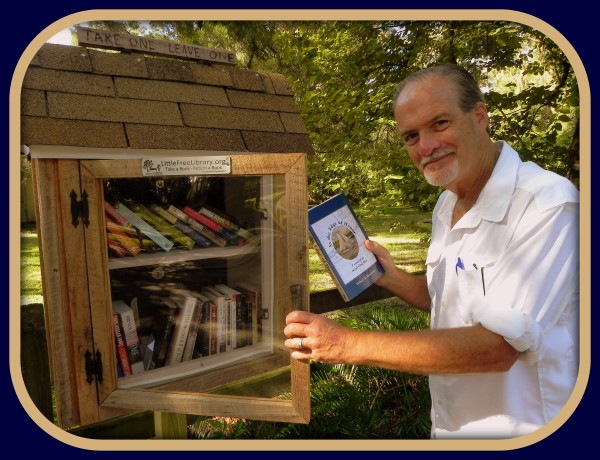 As my Little Free Library tour continues,
believe it or not, I found one at the Dade Battlefield
Historic State Park in Bushnell, FL.
It's an interesting state park, where Major Dade
[US Army] was defeated in the late 1830s
by Seminole warriors, located on CR 603
between I-75 & Hwy 301 in Sumter County.
This 80-acre treasure is a picturesque example
of old Florida. Definitely worth a visit!
[August 2017]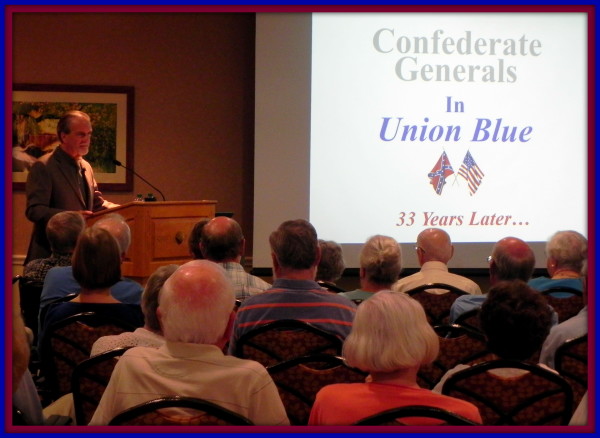 Every audience, when I speak at Shell Point
Community's Academy of Lifelong Learning,
is a delight. Always a great turnout even in the summer!
Remember, my talks there are open to the public
if you call in advance for a reservation.
[July 2017]

My Little Free Library Donation Tour continued
today, July 19th in Cape Coral, FL on Cornwallis Pkwy.
at the Little Free Library charter # 12199
with my 4th novel, A Dishonorable Few.
Onward & Upward!
LittleFreeLibrary.org
[July 2017]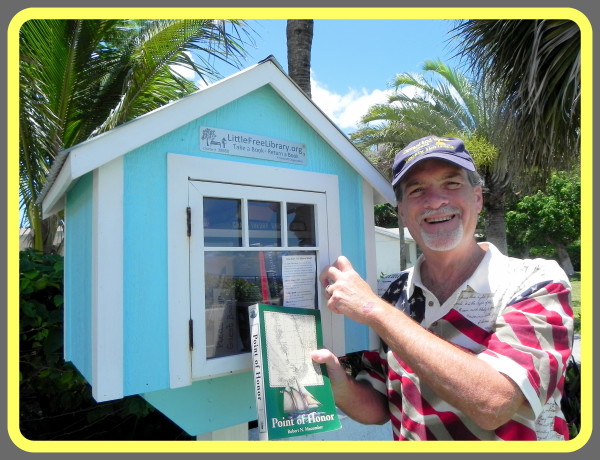 For the next year until July 4, 2018,
I'm donating a book from my Honor Series
to each Little Free Library I come across in my travels.
I want to help spread the word about reading and democracy.
From sea to shining sea, let freedom ring.
Happy Independence Day to the USA!
LittleFreeLibrary.org
[July 2017]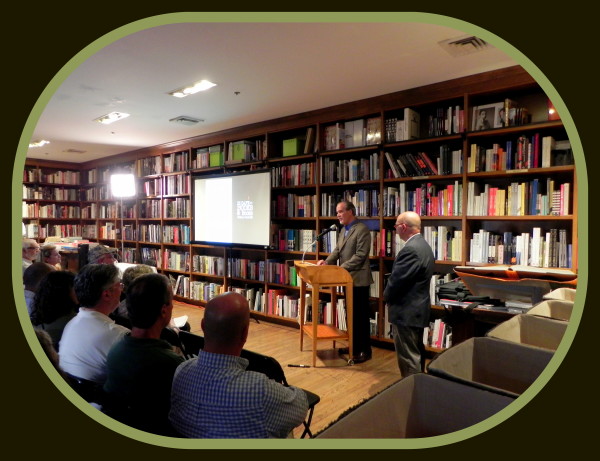 Recorded on C-SPAN Book TV
[air date: 22 July 2017 @4pm EDT on C-SPAN2],
I had the distinct honor of introducing my friend,
Admiral James Stavridis USN (Ret),
before he gave his talk about his new book,
Sea Power: The History and Geopolitics of the World's Oceans
at Books & Books Cafe in Coral Gables, FL.
[June 2017]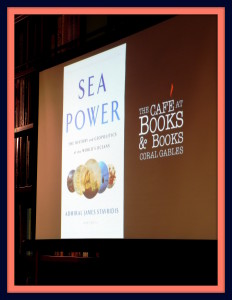 I can highly recommend my friend's new book,
Sea Power: The History and Geopolitics of the World's Oceans
authored by a remarkable man Admiral James Stavridis USN (Ret).
[June 2017]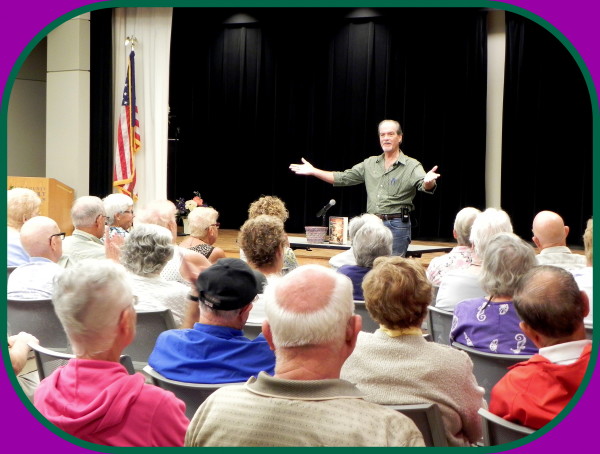 After my talk "The Insider's Story: An Honorable War",
this large, spellbound audience at Lakes Regional Library
in Ft. Myers, FL had plenty of astute questions!
[April 2017]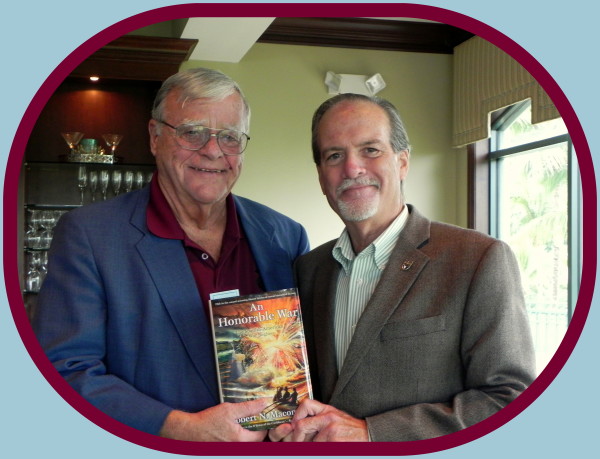 Robert Hoffman (left) pleased to finally have his copy
of my newest novel, An Honorable War,
at the Reserve Officers Association [ROA] meeting
of Naples and Marco Island, where I gave a
presentation for their luncheon.
[April 2017]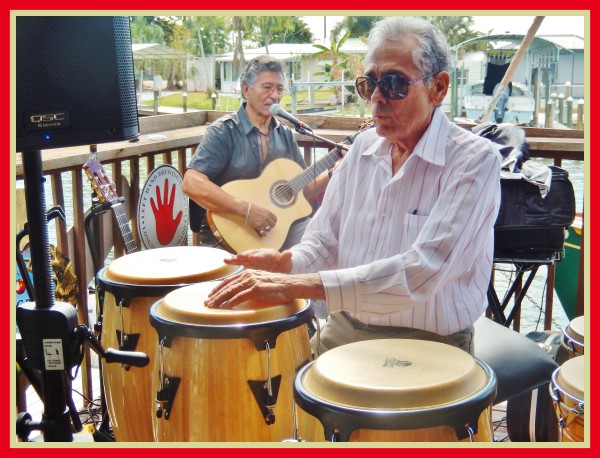 A highlight at my 14th Annual Pine Island
Reader Rendezvous is having music by
The Cuban Duo who always make me want to dance!
~~ Photo courtesy of Barbara Stepien ~~
[April 2017]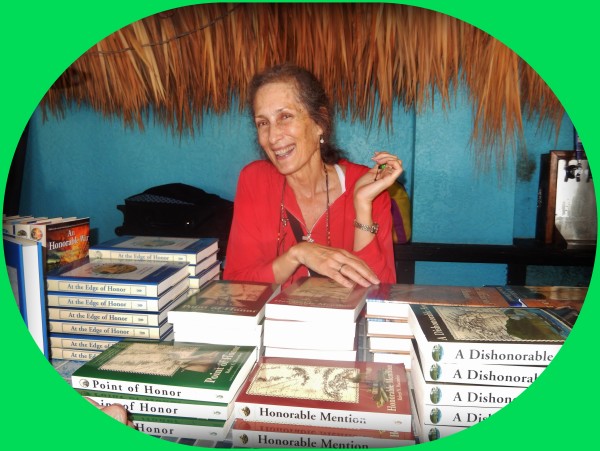 Books for sale! But not just any books,
these are my Honor Series novels & pictured
is Nancy Glickman, always happy to help.
~~ Photo courtesy of Barbara Stepien ~~
[April 2017]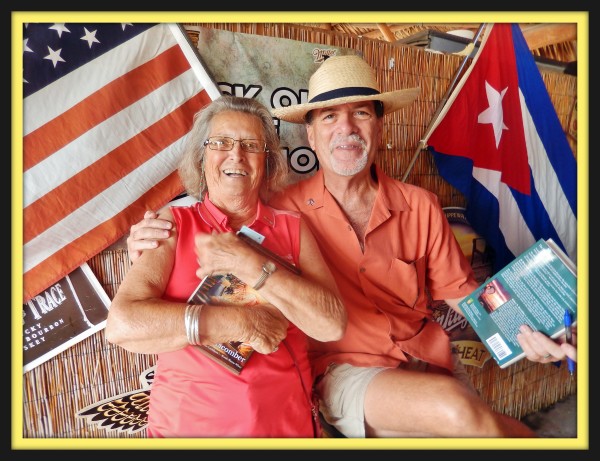 Judi Sellers poses with me after getting her copies of
An Honorable War signed, and she is also one of the travelers
from my Inaugural Havana Reader Rendezvous.
~~ Photo courtesy of Barbara Stepien ~~
[April 2017]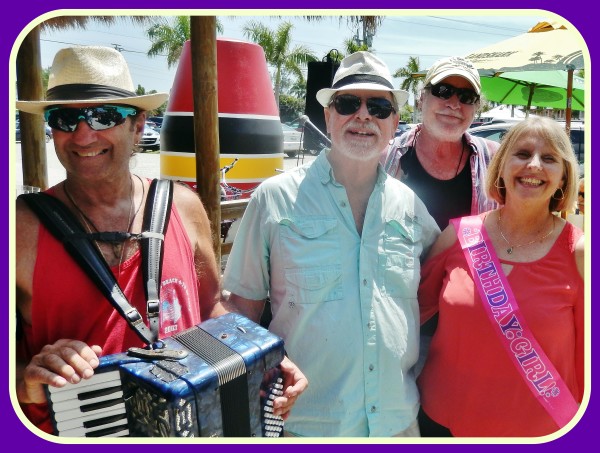 Barbara Stepien (right) celebrates her birthday
and Havana Reader Rendezvous Reunion
at the 14th Annual Pine Island Reader Rendezvous
with the band, The Yard Dogs,
in honor of my newest novel, An Honorable War.
~~ Photo courtesy of Barbara Stepien ~~
[April 2017]

We celebrated the 100th Anniversary of Theodore Roosevelt's
last adventure in Southwest Florida!
What a beautiful day on the water, and we'll be having
another voyage on Thursday, April 6th called
"Cuba & SW FL – 500 Years of Sailors, Smugglers and Spies."
Call tel # (239) 633-8142 for ticket info
and to reserve your space with Island Girl Charters.
 [March 2017]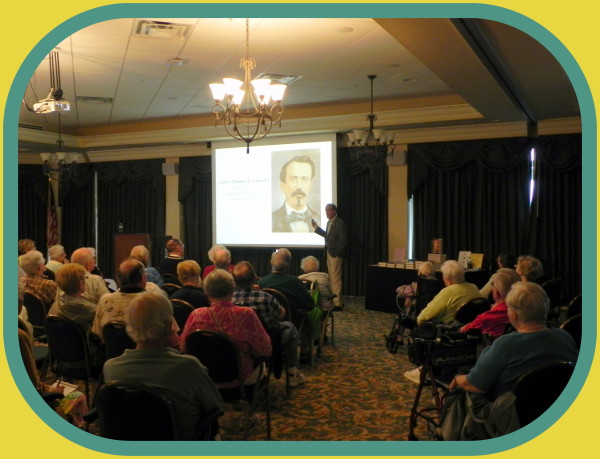 Happy to see a mesmerized crowd at Shell Point Community's
Academy of Lifelong Learning enjoying Part 1 of my four-part series
of lectures on "The Spanish-Cuban-American War"
with the next 3 events to follow on March 16th,
March 21st & March 23rd ~ check my website calendar
for details then call for a reservation at tel # 239-489-8472.
 [March 2017] 
On my Spanish-American War Expedition,
we went to the Cemetery in Santiago de Cuba
to see the revered tomb of Jose Marti, which is
also where Fidel Castro is buried.
 [March 2017] 
Some of our hearty travelers are gathered around the monument
at El Caney battlefield from what's thought of in Cuba as
the Spanish-Cuban-American War of 1898.
 [March 2017]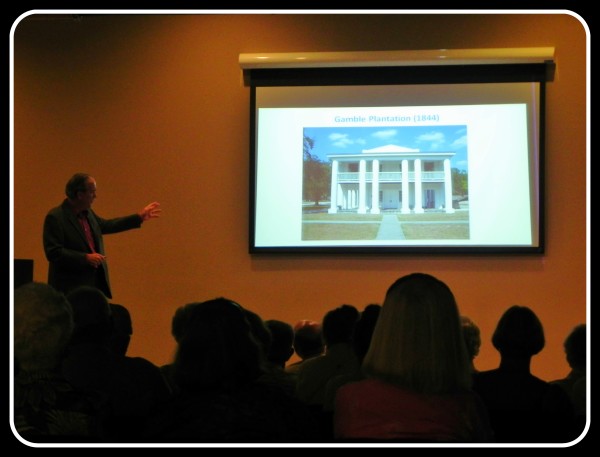 It's always a treat to reveal little known information
about Florida's role in the Civil War,
and how the Civil War ended,
which was my topic, called "The Great Escape"
at the Marco Island Historical Society event.
I'll be back there on March 28th ~ Mark your calendars!
 [February 2017]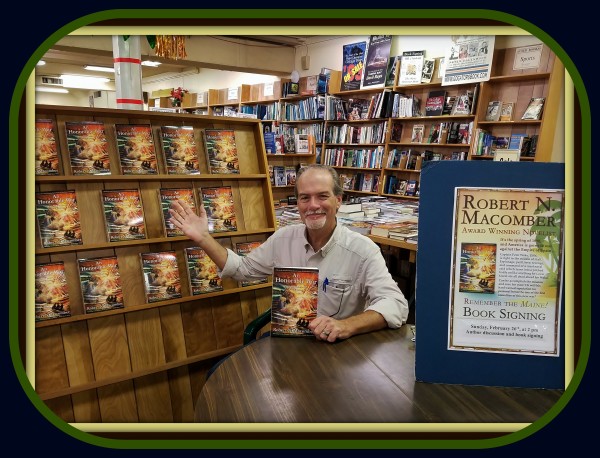 Haslam's Book Store in St. Petersburg, Florida
is a book lover's utopia, and here I am
just before my book signing event for my 13th novel
in the Honor Series, titled An Honorable War.
(original photo provided by Ray Hinst)
 [February 2017]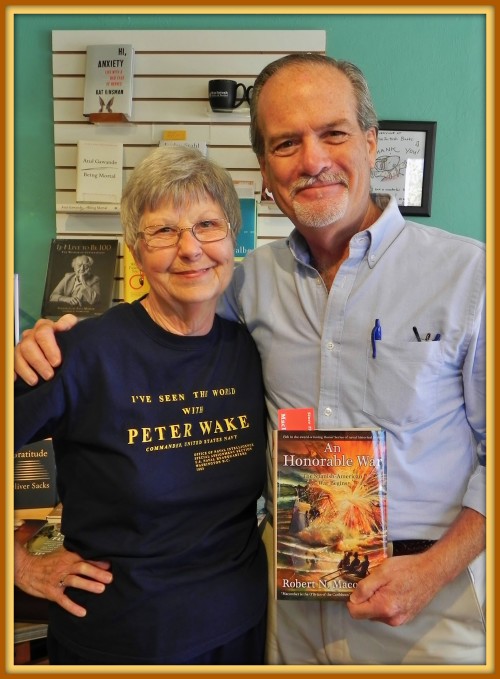 It's one of the Wicked Sistas, Barbara Stokes,
who surprised me at my book signing event
on Sanibel Island [MacIntosh Books]
very eager to get my new novel,
An Honorable War, for herself & friends.
 [February 2017]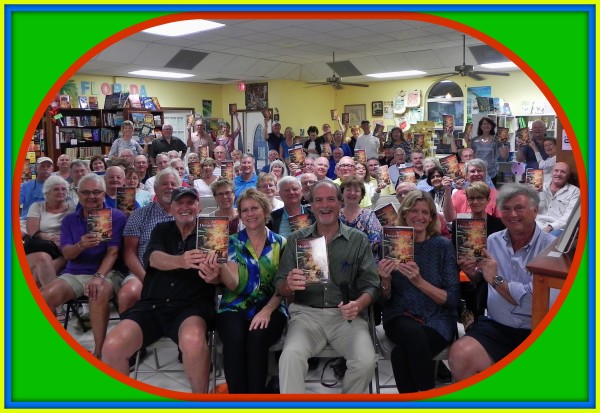 It'll be hard to top this Book Launch Party
for An Honorable War at Copperfish Books …
Look at all the smiling faces!
 [February 2017]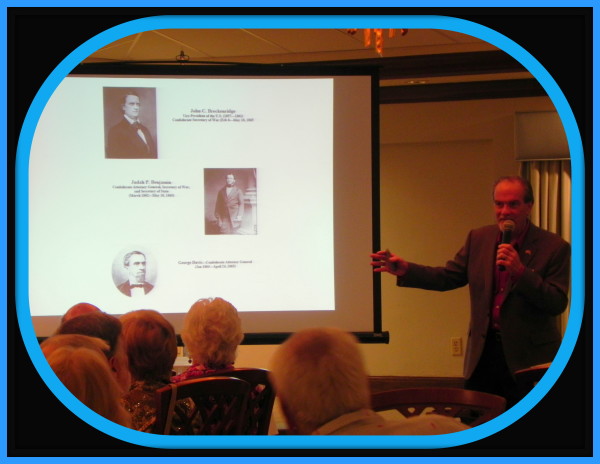 After having dinner with the Senior & Retired
Physicians Association of SW FL, it was a treat to share stories
with this very interested audience
about the role our area of Florida played in the Civil War
 [February 2017]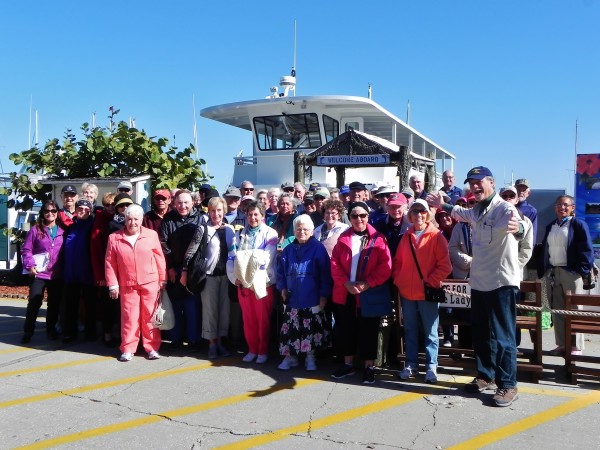 Such a beautiful winter's day in Punta Gorda, FL
with the Academy On The Go from Shell Point Community
who joined me for a Peace River Tour on King Fisher Fleets
to learn about the history of our region.  
 [January 2017]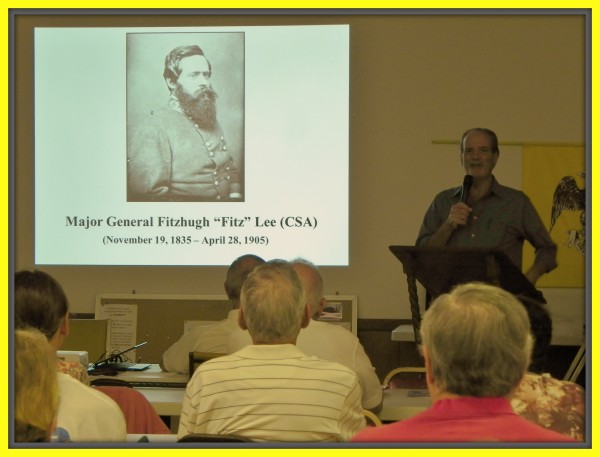 It makes me feel rewarded when I can give a talk
on a new topic to people who know and study history, like my friends
at the Civil War Round Table of Palm Beach County
 [December 2016]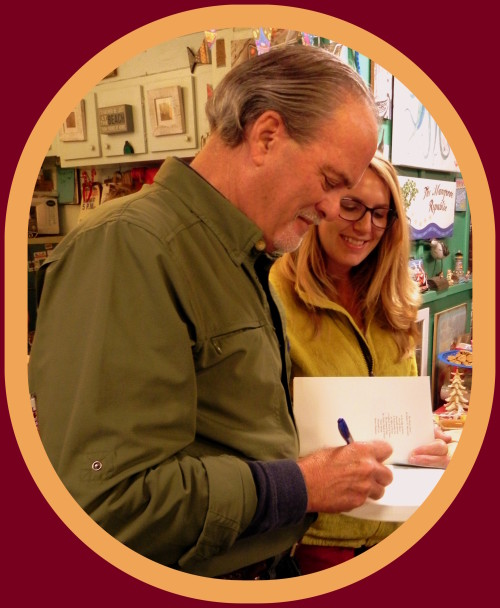 What a wonderful holiday party thanks to Deb & her team
at Pine Bay Gallery, my Ship's Store! Besides carrying my books,
it's a unique shop filled with amazing gifts.
Merry Christmas, Happy Hanukkah & Peace To All on Earth
[December 2016]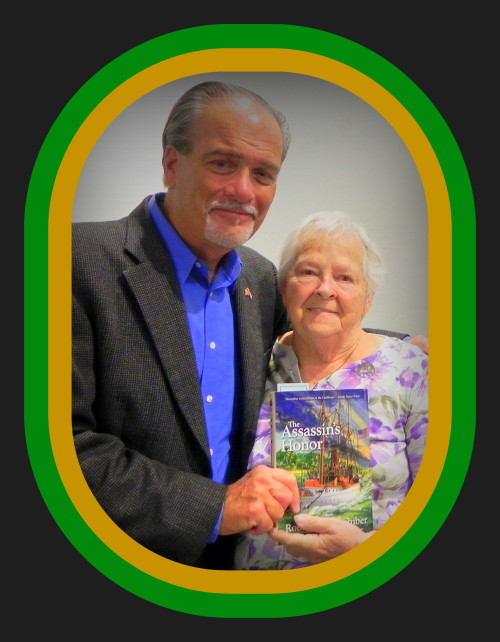 Long-time reader, Ann Alsop is pleased to have her newly
purchased copy of The Assassin's Honor signed by me at the
Estero Island Historical Society event so she can add it to the rest
of the Honor Series, since she's read them all ~ good to see you Ann!
[November 2016]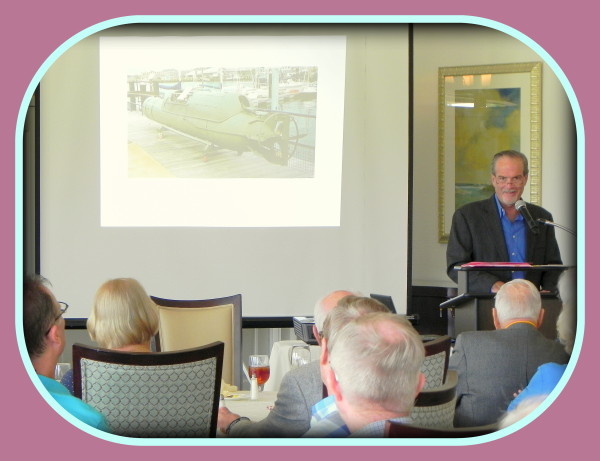 It was wonderful to see old friends and meet new members
of the ROA [Reserve Officers Association] of Naples-Marco Island, FL
when I gave my talk on "Decima Mas" at their recent luncheon. Looking
forward to seeing everyone again in April 2017 when
my next novel, An Honorable War is out!
[November 2016]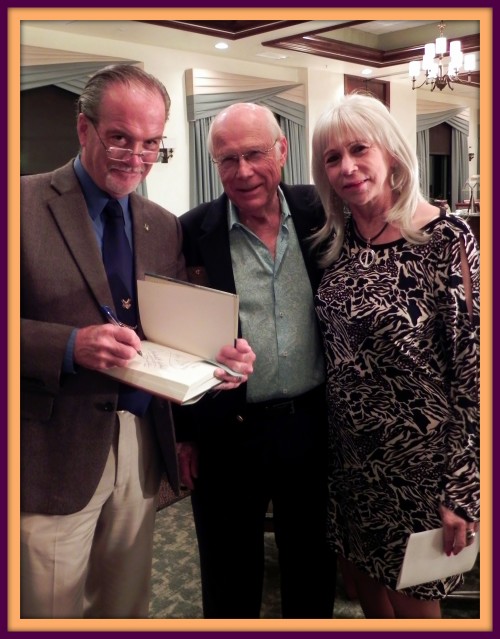 Thank you to Bill Hodges [middle] of The Military Officers Association
of Southwest Florida [MOASWF] for having me speak to his
well attended dinner meeting and for putting together
such a creative introductory video about me with music
to entertain his members before my talk. Well done, sir!
[October 2016]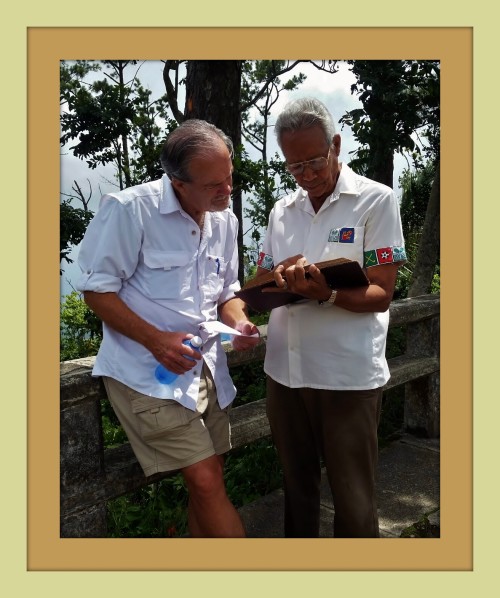 Working with legendary Cuban historian, Miguel Moncada in
Santiago de Cuba, on my long-awaited trek, was extremely rewarding!
[August 2016]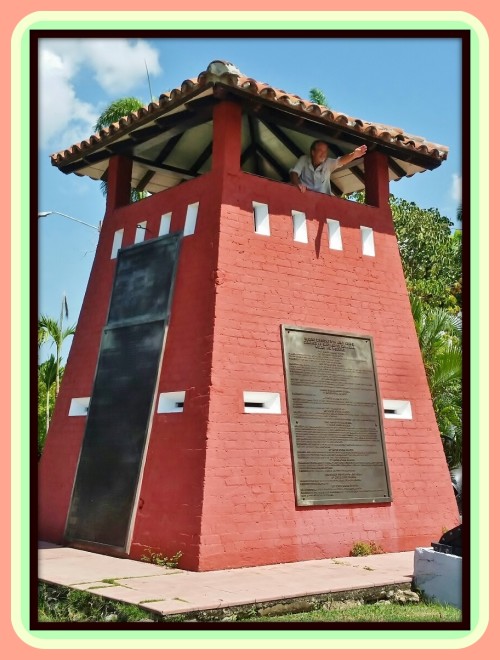 Looking out from the Spanish Blockhouse on San Juan Hill,
Santiago de Cuba, gave me views I had only before seen in my dreams.
[August 2016]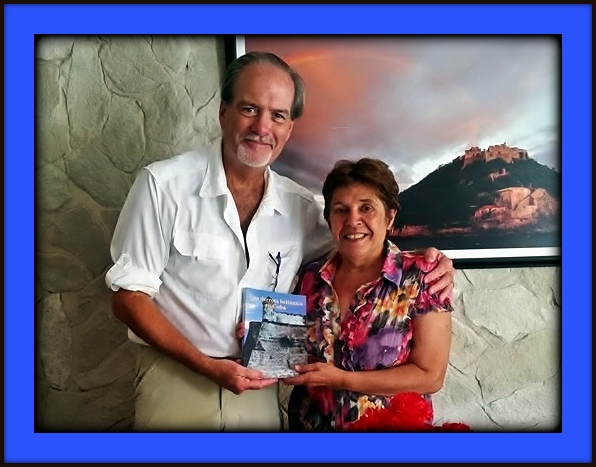 Thank you to Dr. Olga Portuondo Zuñiga,
Director of the Office of History for Santiago de Cuba
who had much to share with me on this research trip.
[August 2016]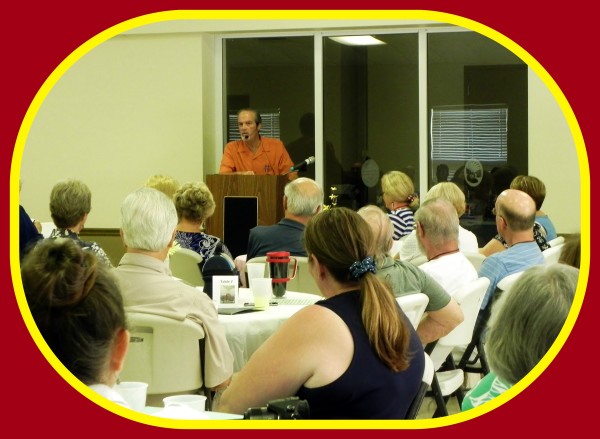 An invigorating crowd attended the Lee County Genealogical Society
for my talk on "Planning a Research Trip" and sincere thanks
to Carol Rooksby Weidlich for helping to make it all come together!
[July 2016]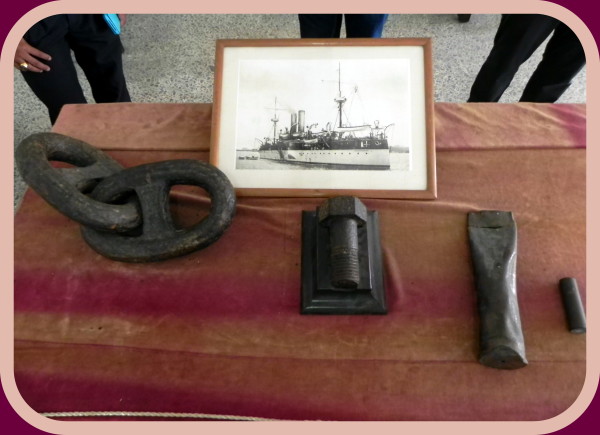 During our private tour with the Director of the Masonic
Grand Lodge of Cuba, we saw remnants of the USS Maine,
which blew up in Havana harbor ~ keep this in mind
when you read my next book due out in mid-February 2017.
 [June 2016]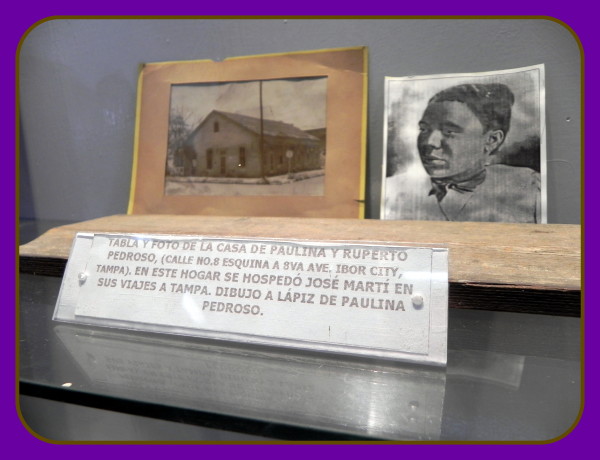 In the home where Jose Marti was born in Havana,
Cuba there is a display recognizing the Pedrosos of
Ybor City [Tampa, FL], which was a key location
in my 12th novel, The Assassin's Honor.
 [June 2016]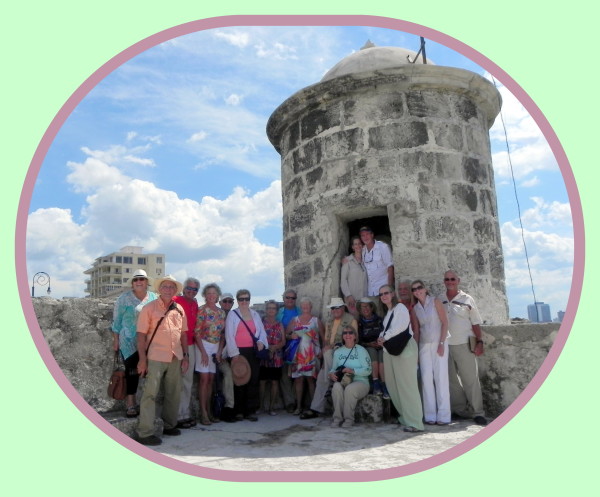 Almost everyone gathered up for this photo at the
Punta Fortress during our inaugural
Havana Reader Rendezvous in Cuba.
 [June 2016]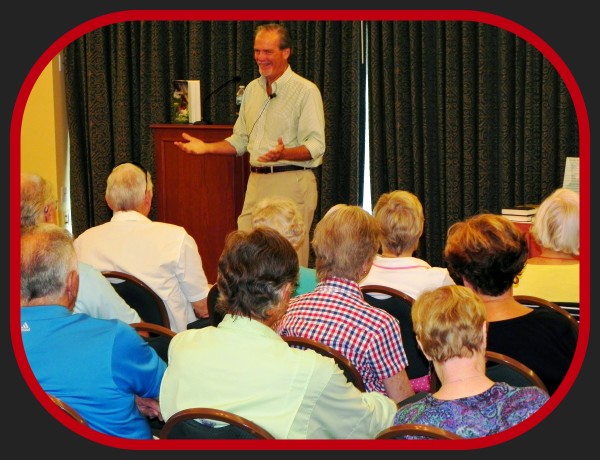 It was a packed house at Shell Point's Academy of Lifelong Learning
for my first of three presentations ~ such an astute crowd,
including many Wakians, I'm proud to say!
 [May 2016]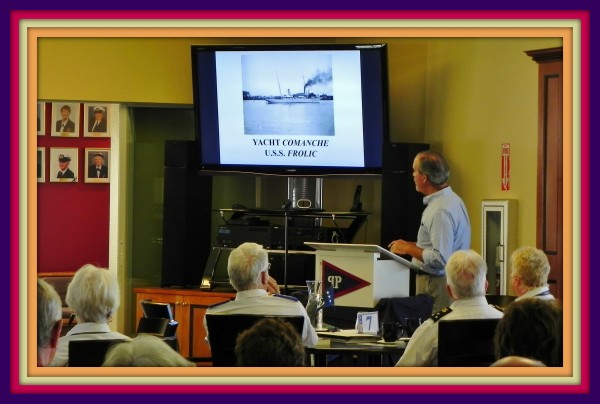 Standing room only at the FL Commodores Association meeting
hosted by Platinum Point Yacht Club
where I gave my talk "Yachts That Went To War"
 [April 2016]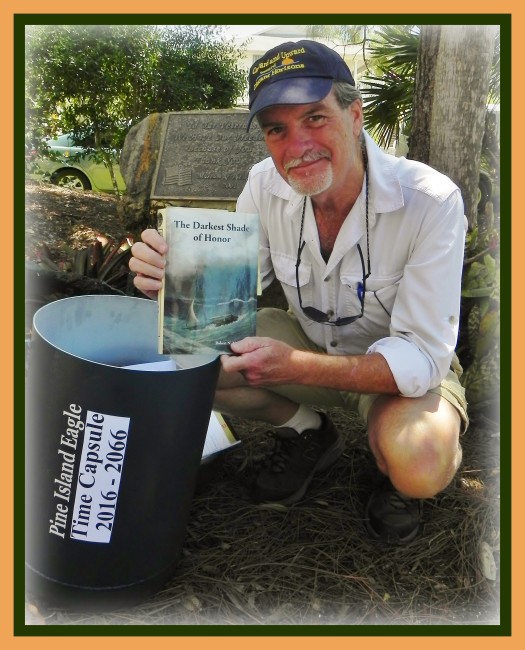 I placed a copy of my novel, The Darkest Shade of Honor,
into the Pine Island Time Capsule at today's ceremony,
and can only hope to imagine those who open it up
in 2066 will remember what an actual book is ….
This book was dedicated to my girlfriend
at the time it was published, who's now my lovely wife,
so it was the perfect choice!
 [April 2016]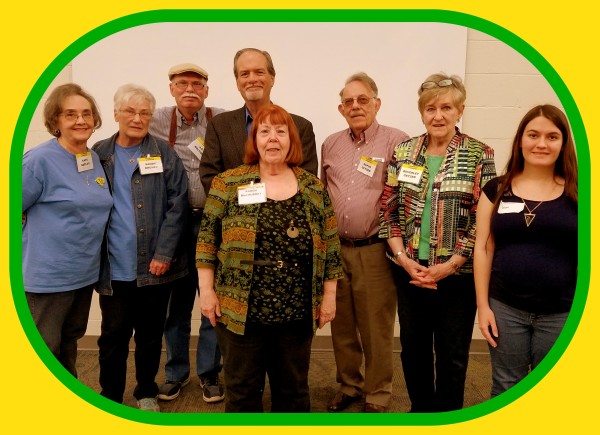 Here I am gathered together with
The Carolinas Writers Conference Committee,
who deserve a standing ovation and have my gratitude
for their tireless commitment to organizing this annual event
where, this year, I spoke on writing and marketing.
 [April 2016]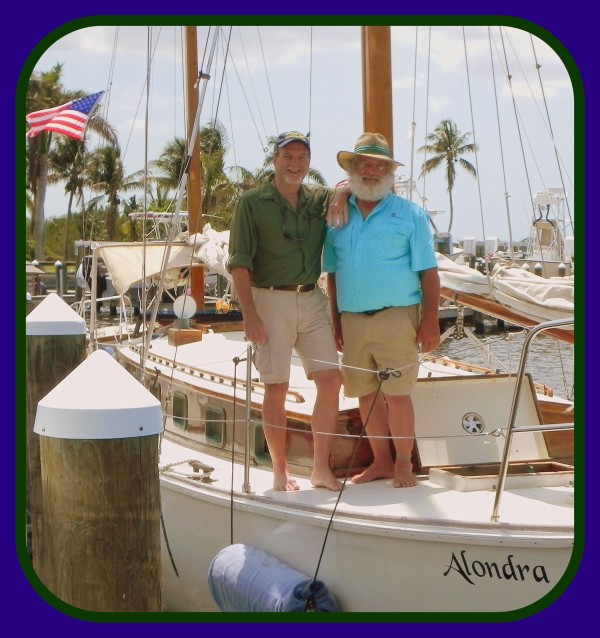 There I am on the left with Captain Chuck Koucky on the right.
We're ready to head out for my four hour history tour,
 "If These Waters Could Talk" with me as your guide
on the beautiful 47ft. gaff-rigged ketch, Alondra [6 passengers max].
Call Nancy Koucky at (239) 233-3003 to grab reservations & get
details for the 2016 Fall dates, which are filling fast!
Alondra is docked at the Tarpon Lodge & Restaurant on Pine Island.
 [April 2016]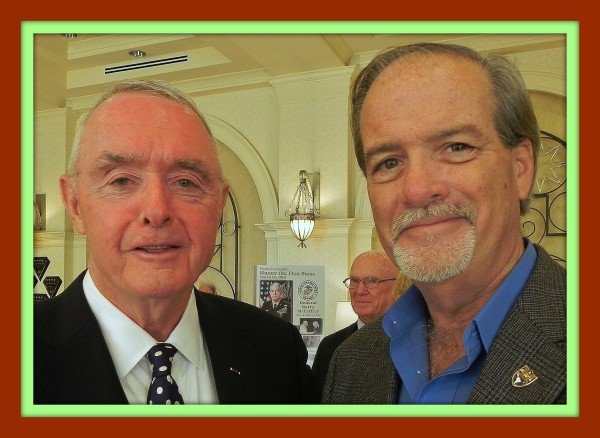 General Barry McCaffrey, US Army (Retired) on the left,
spoke at the Honor The Free Press event in Naples, FL
which was founded by the Marines of Naples,
and sincere thanks to Bob Hoffman
for having me there as his guest.
 [March 2016]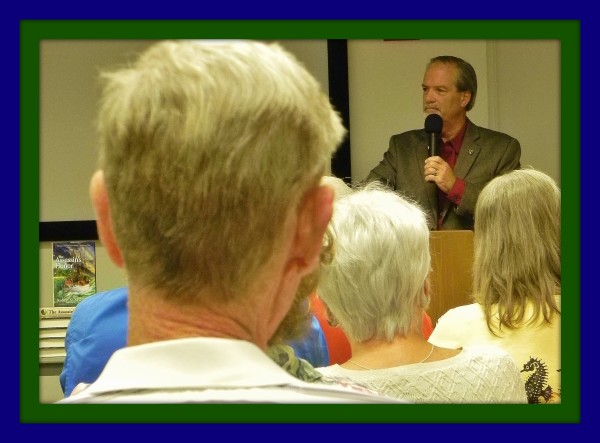 Great to be back to a jam packed audience at
the Bonita Springs Library for my talk on
"Sanibel and Captiva Islands in The Civil War"
which was sponsored by their Friends of the Library.
 [March 2016]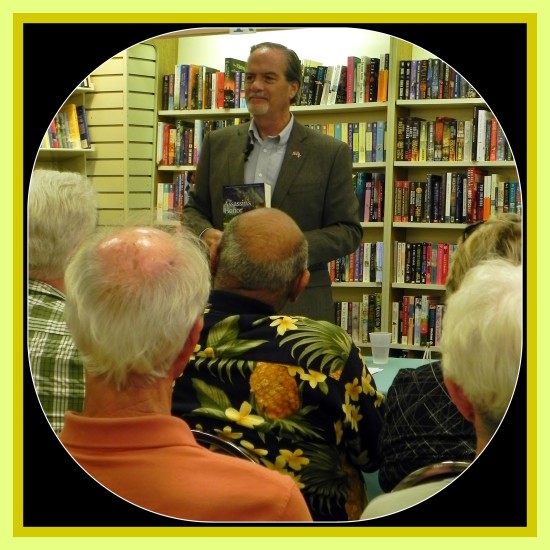 It was fun fielding questions from the keenly interested audience
of readers for my "Insider's Story" talk about my novel,
The Assassin's Honor, at the Vero Beach Book Center.
 [March 2016]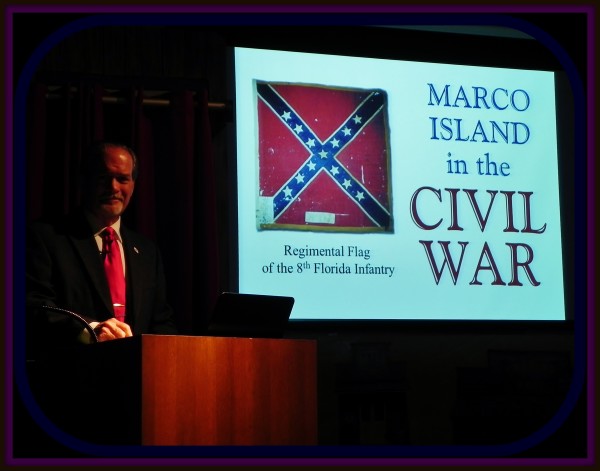 Marco Islanders love their history,
and I was delighted to share some lesser known tales
at the Marco Island Historical Society's event!
 [March 2016]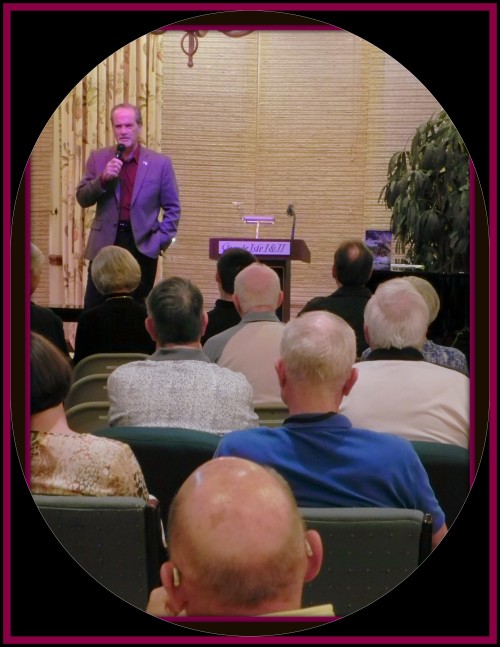 Always a warm and friendly audience for my talks at
the Grande Isles Towers in Burnt Store Marina,
and thanks for the many insightful questions!
 [February 2016]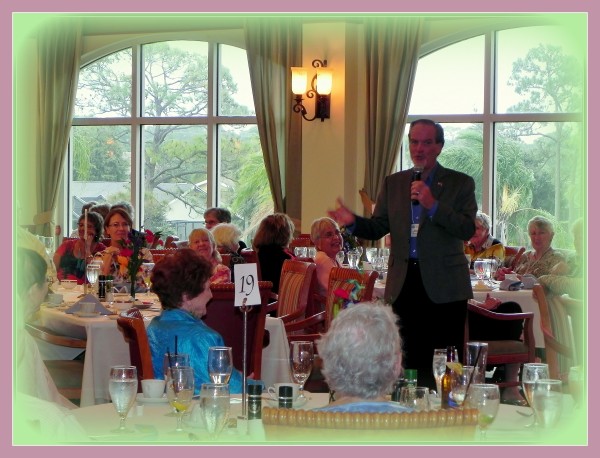 There was a terrific turnout for
the Bonita Springs Historical Society's luncheon,
where I was the guest speaker, giving a few highlights of the
500 year relationship between Southwest Florida and Cuba.
 [February 2016]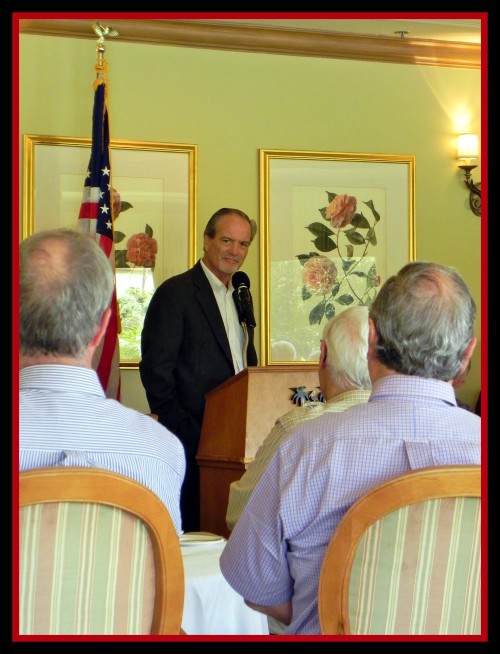 Had an exhilarating day speaking again at
the Reserve Officers Association [ROA] of Naples/Marco Island
where my Civil War era topic for them was titled "The Sword of Key West"
 [February 2016]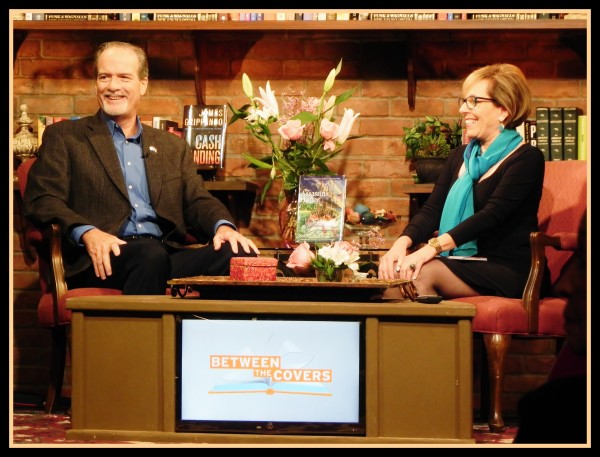 As a guest on WXEL-TV's PBS program
"Between The Covers" with host Ann Bocock,
I had time for a Q&A with the live audience
in Boynton Beach, FL ~ the show airs on
January 8th @ 5:30pm & January 9th @ 10am
 [December 2015]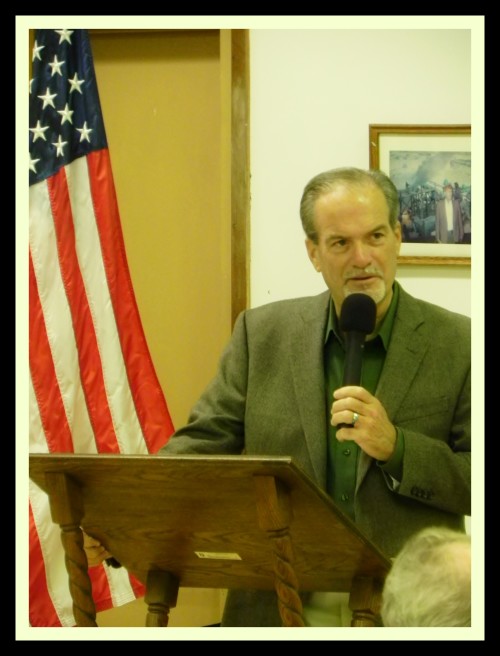 I always look forward to seeing my friends
at the Civil War Round Table of Palm Beach County
for my annual talk in Lake Worth, FL
 [December 2015]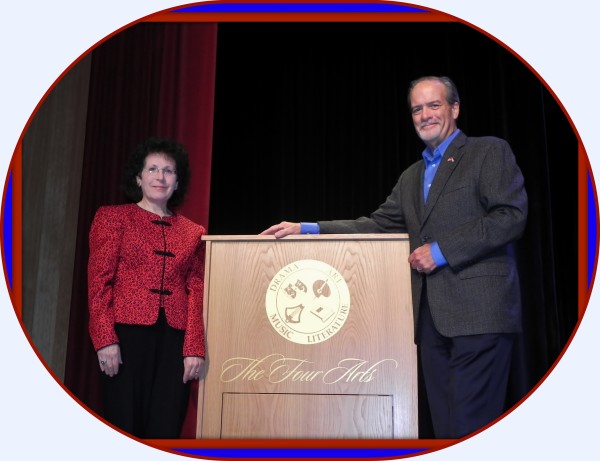 Much appreciation to Dr. Rachel Schipper,
Director of Libraries at The King Library
[The Society of The Four Arts]
who posed on stage with me before
my presentation in Palm Beach, FL
 [December 2015]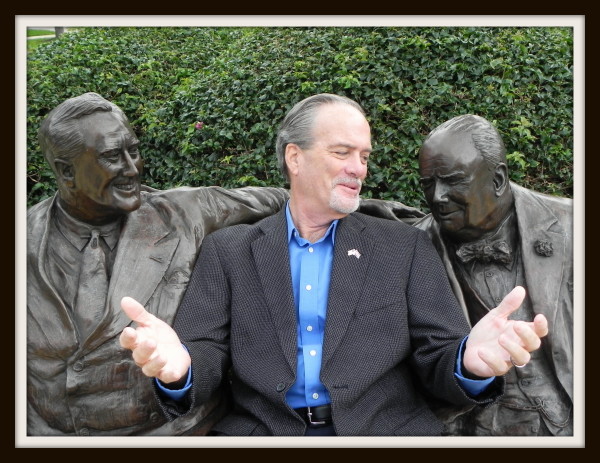 There I was in the garden
at The Society of The Four Arts complex
with time to get a few pointers before going
onstage for The King Library's
Florida Voices program in Palm Beach, FL
 [December 2015]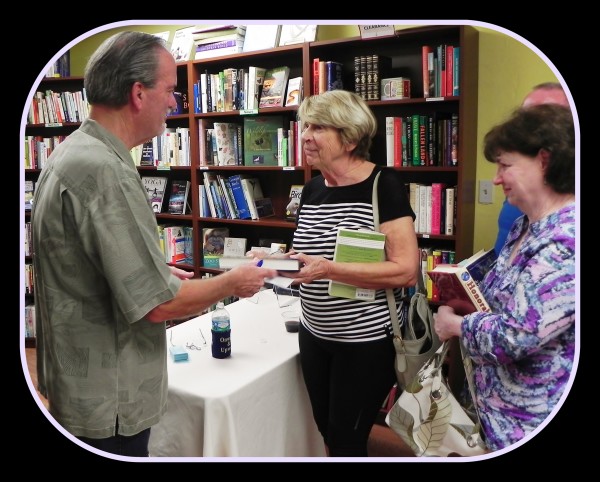 It's a sincere pleasure to personalize
copies of my novels for my audiences
everywhere, and here I was with a super crowd
at Copperfish Books in Punta Gorda, FL
 [December 2015]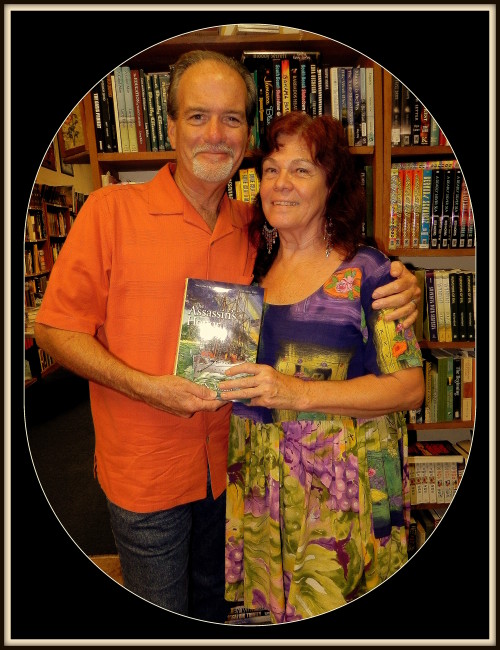 Thank you, Janet Bollum, owner of
The Muse Book Shop,
 who has supported me over the years
giving cause for us to celebrate
the 10th Annual Central Florida
Reader Rendezvous in DeLand, FL
 [November 2015]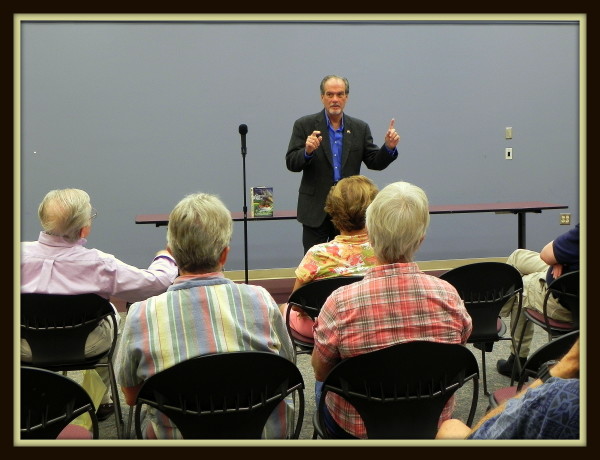 The suspense is growing at the Leesburg Library
during my talk about researching
The Assassin's Honor, but no spoilers got out that day ….
 [November 2015]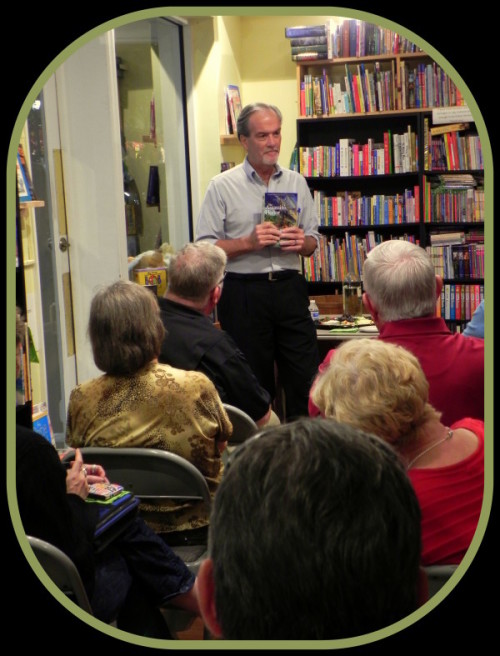 Within this wonderful audience at Barrel of Books and Games
was a couple who planned their trip across Florida
from Pensacola to Key West, including a special stop
in Mount Dora to see me and to buy The Assassin's Honor!
Those are some loyal Wakians and I thank you!
 [November 2015]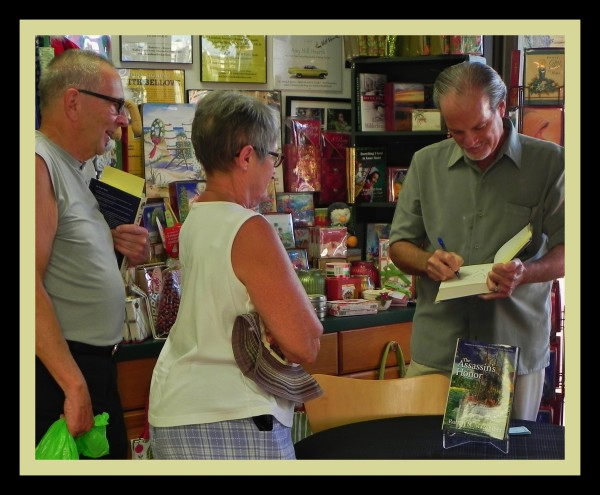 Happy readers get their books signed for themselves
and for gifts at Sunshine Booksellers
on Marco Island [November 2015]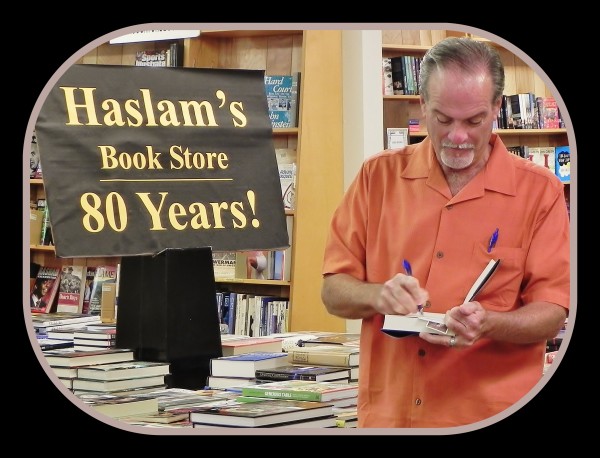 Started in 1933, Haslam's Book Store is a tradition when
I'm on book tour, and I'm thrilled to report
we sold out of the hard copies of The Assassin's Honor
at my book signing there  [October 2015]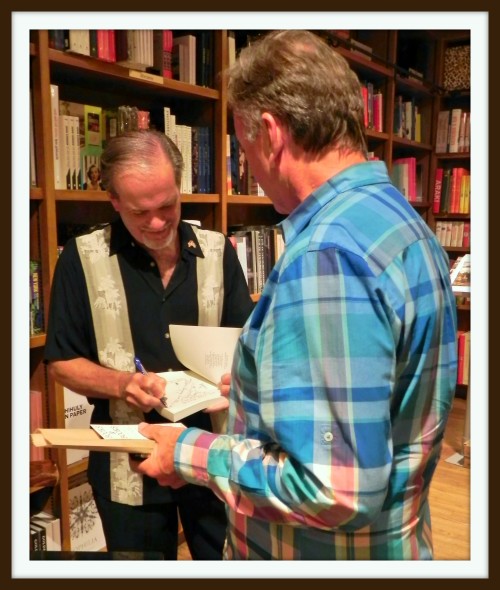 Here at Books & Books in Coral Gables, I'm sharing stories
with readers – one of my favorite author moments – and this proud
dad, Michael, sends my novels to his son overseas,
who is stationed in places like Iraq & Afghanistan ~ then the books
get read and read again and again ~ what an honor to know this!
[October 2015]  
Thoroughly enjoyed my interview with JoEllen
on her show "Art In Your Ear" for
WMNF-FM Community Radio in Tampa, FL
[October 2015]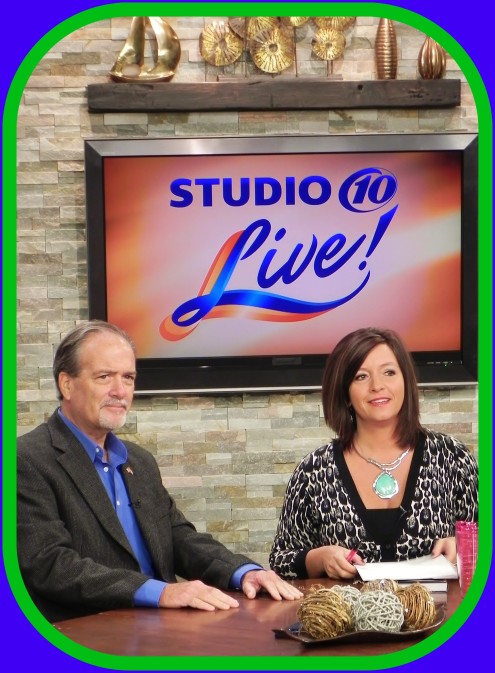 Getting ready to go on air at Studio 10 Live [WTSP-TV]
in St. Pete, FL which is broadcast across the Tampa Bay area
[October 2015]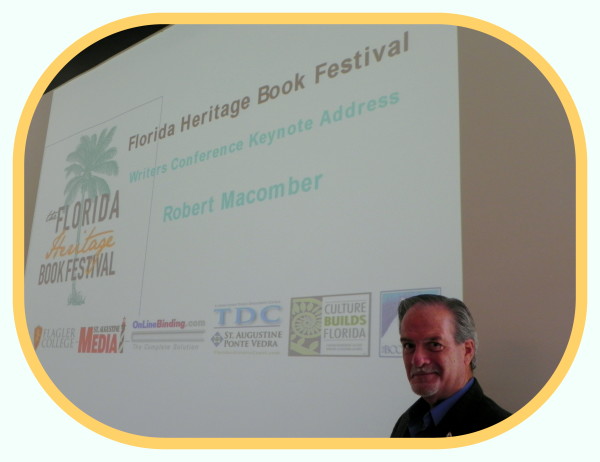 At the FL Heritage Book Festival Writers Conference Luncheon
as the Keynote Speaker in Saint Augustine [September 2015]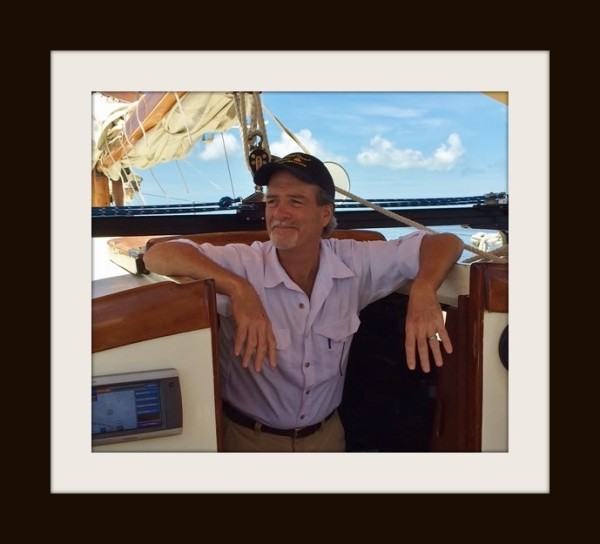 It's a wonderful time on the lovely ketch Alondra with me,
6 lucky passengers, Capt. Koucky and his crew ~ a sail of a lifetime
with seats always filling fast!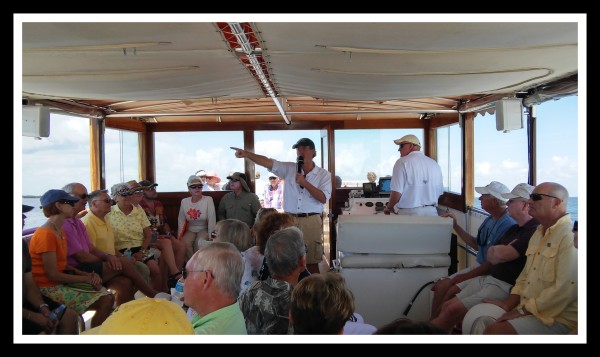 I'm showing points of interest on my Civil War Tour with Captiva Cruises
around Pine Island Sound and Charlotte Harbor [March 2015]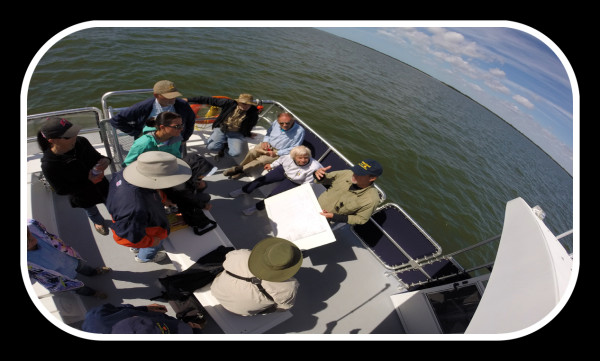 Here I'm speaking to readers aboard Island Girl Charter's 45-foot
catamaran during a tour of SW FL historical Civil War sites between
Pine Island Sound and Charlotte Harbor [photo credit to Scott Butherus
of the Naples Daily News] in February of 2015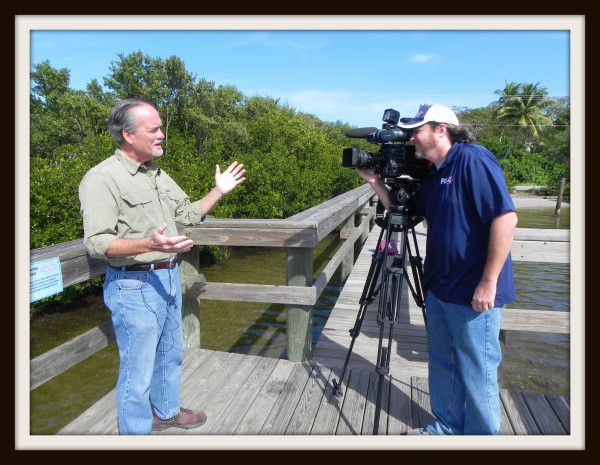 Paradise TV [Fox 4] filming me about upcoming historical
boating tours and events [January 2015]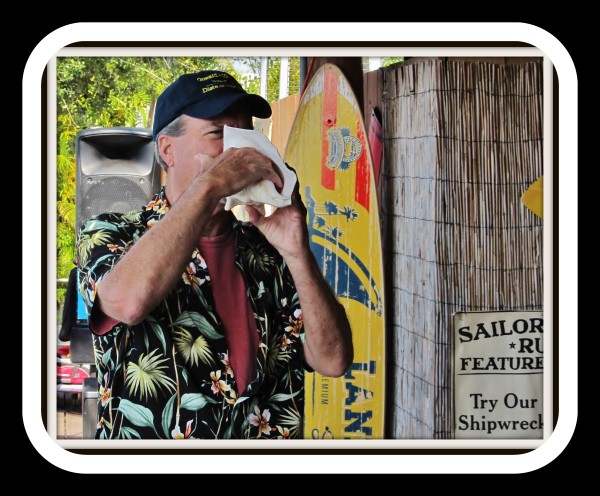 12th Annual Pine Island Reader Rendezvous gets underway
when I sound the conch [Woody's Waterside Pub in St. James City
on Monroe Canal held November of 2014] ~ 13th annual will be
Saturday, Nov. 14, 2015!!
A cold beer at Motu Tapu with Bora Bora behind me.
2014 South Pacific lecture trip
Entrance to Banana Road, where I got badly hurt two years earlier, 
among the mountains of Mo'orea Island in French Polynesia.
2014 South Pacific lecture trip
2013 Reader Rendezvous at Pine Island
Bob wearing his Samoan clothes!
Sailing through Matlacha Passage, 2012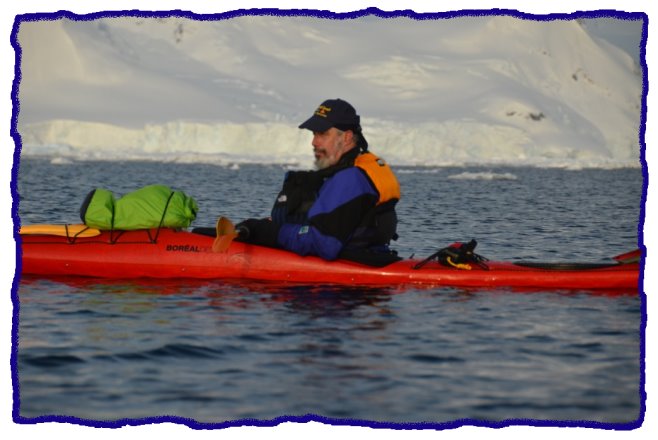 Wakian sighting—Nov 2011—Virginia Wakian Mike Woodgerd
 kayaking in Antarctica while wearing the Onward & Upward hat!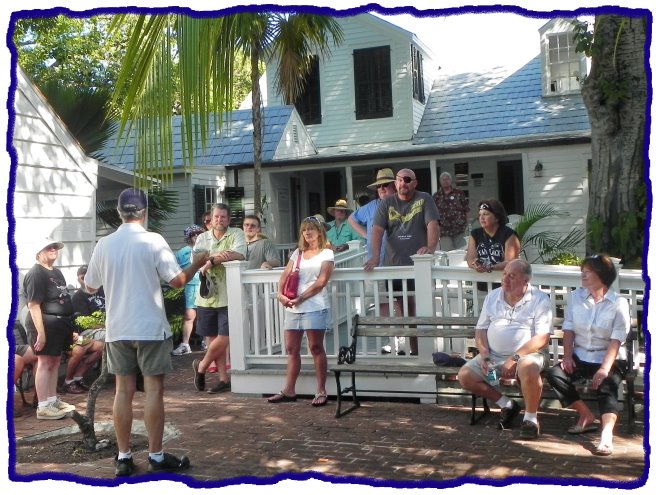 Bob and the "Wakians" during his walking tour of Old Key West during the
 5th Annual Key West Reader Rendezvous in 2011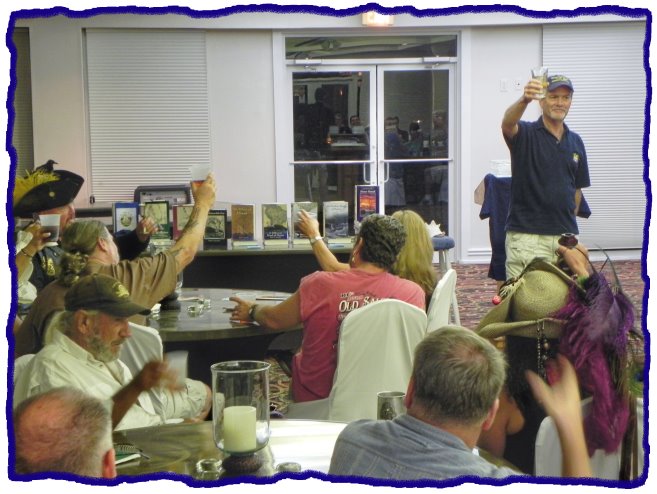 Bob teaching Wakians how to properly drink rum at the
5th Annual Key West Reader Rendezvous in 2011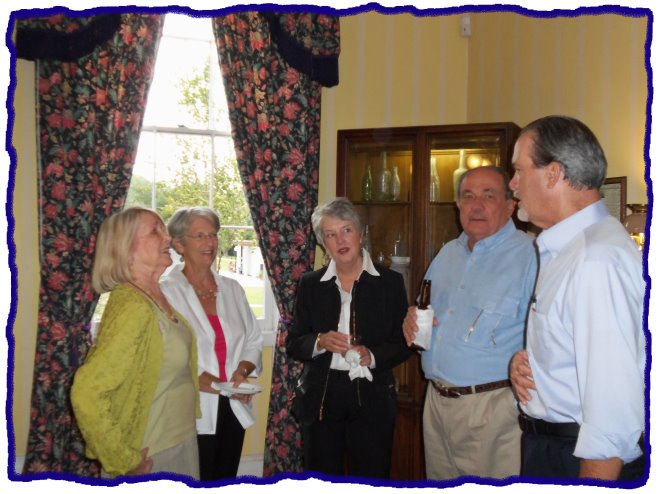 Meeting interesting people at an evening reception at
the historic Orman Mansion in Apalachicola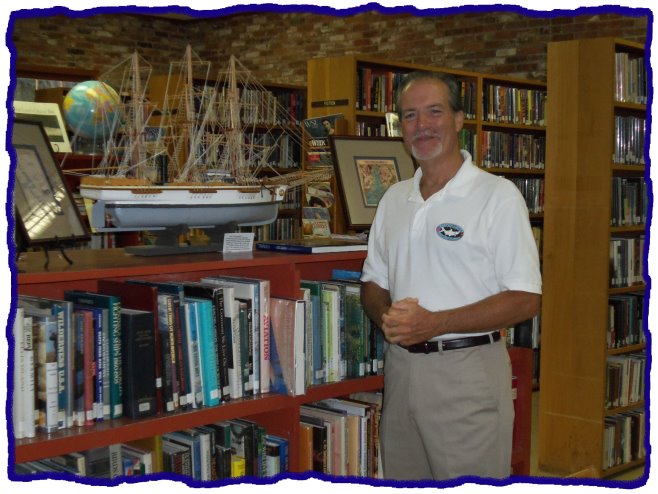 Visiting the Apalachicola Municpal Library as the
 featured author at "Authors in Apalach!" festival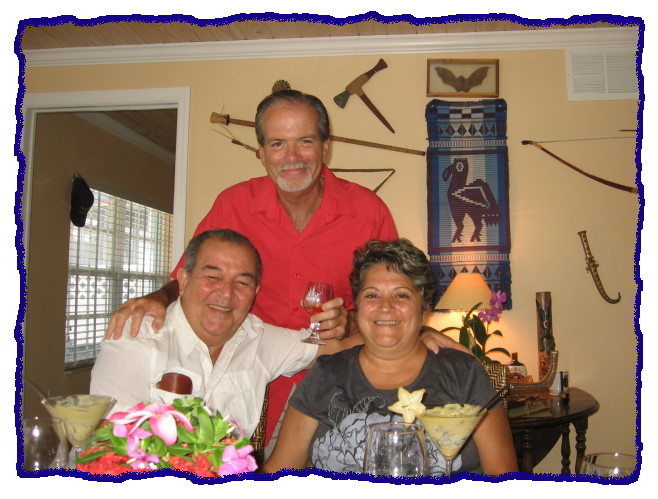 September 2011 – The Historian of Cuban Freemasonry,
Justo Orihuela Alvarez, and his wife Olga, honored me by their visit
to my home for lunch
March 27, 2011 – Robert Macomber
and Sculptor Scott Dozier in front of the Peter Wake Statue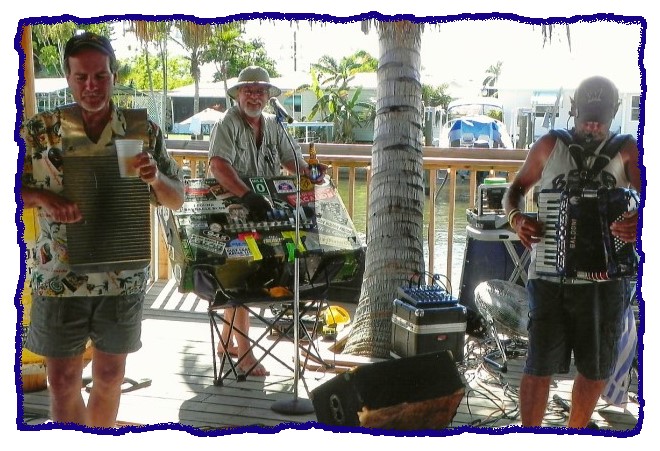 March 2011 – Robert Macomber playing the rub board with
the famous Yard Dogs at the Pine Island Reader Rendezvous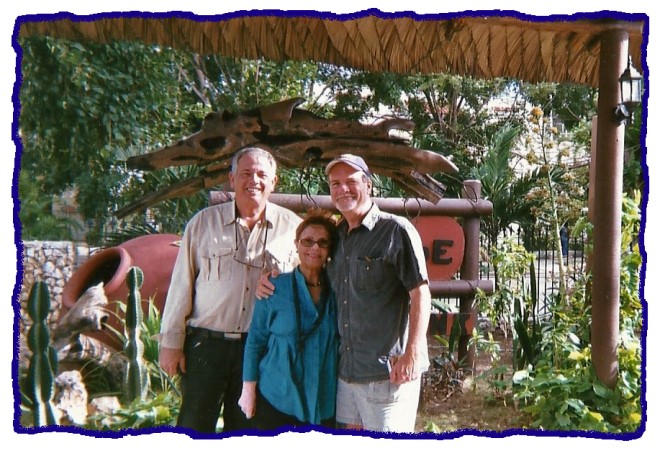 February 2011 – Researching my novels in Cuba with Ela Lopez Ugante
– one of the world's  foremost scholars on Jose Marti –
and her husband Roberto Giravdy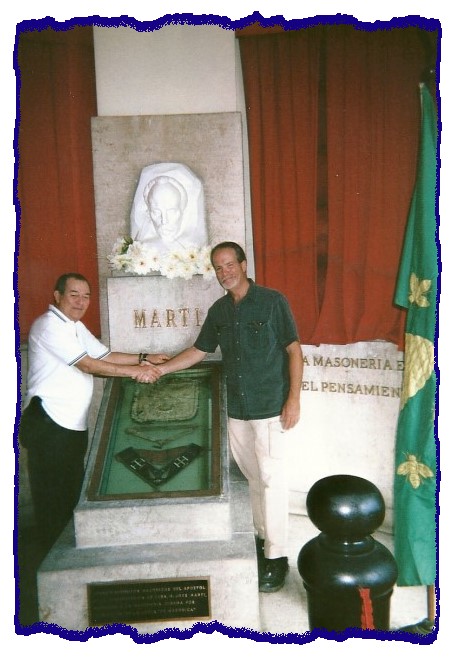 February 2011 – Researching Jose Marti in Havana, Cuba with the
 historian of free masonry in Cuba, Justo Orihuela Alvarez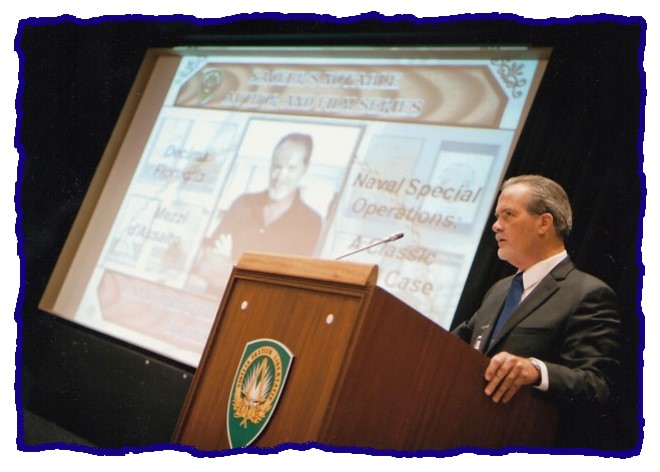 October 2010 – Robert Macomber Lecturing at NATO Headquarters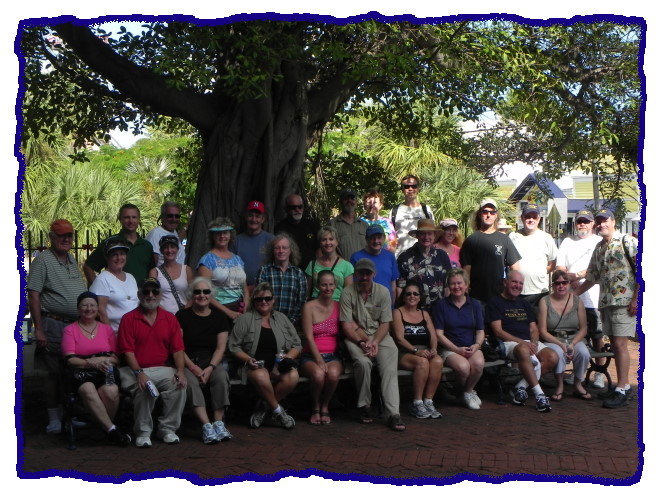 2010 Key West Reader Rendezvous – Robert Macomber giving
his Wakians (fans) a personal walking tour of Old Key West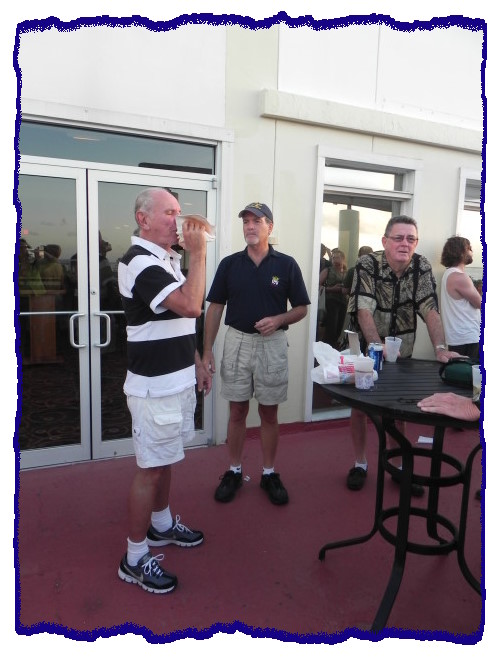 2010 Key West Reader Rendezvous – Teaching Wakian Glenn Lambert
from Seattle how to sound a conch shell at sunset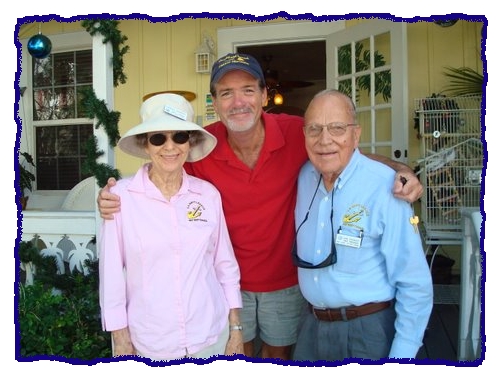 Meeting with my readers at the 2009 Key West Reader Rendezvous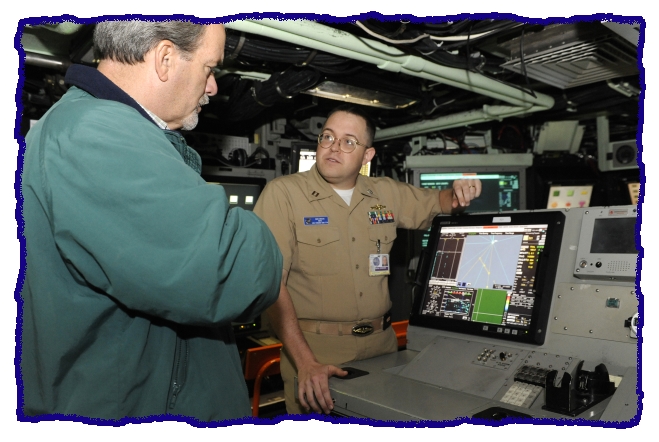 May 2009 – Briefing by the "WEPS" (weapons officer) aboard USS VIRGINIA,

the US Navy's very impressive new class of attack submarine,
at Groton, Connecticut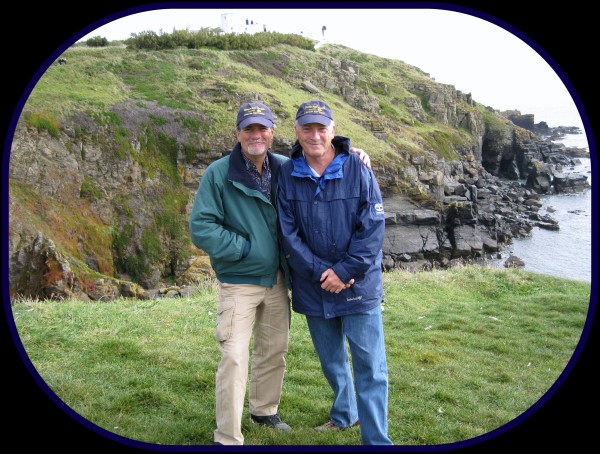 Wakian Sighting in Cornwall, England at Lizard Point with my former colleague & dearest friend, Keith Saunders [Sept.'09]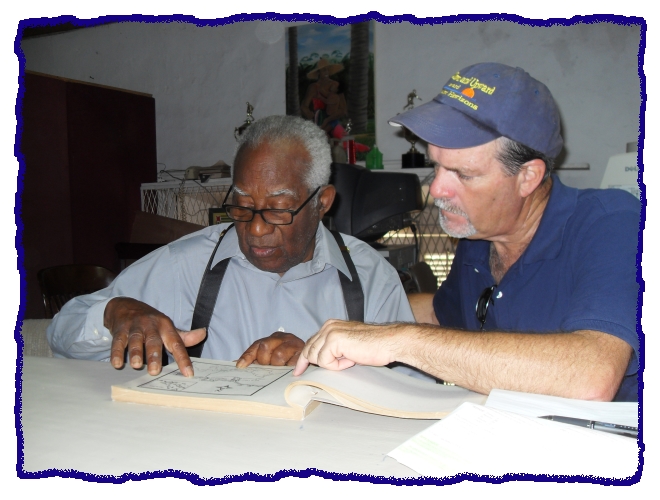 February 2009 – Researching a current project with the pre-eminent anthropologist of Haiti, Dr. Louis Noisin,
of the University du Roi Christophe, in Cap Haitien, Haiti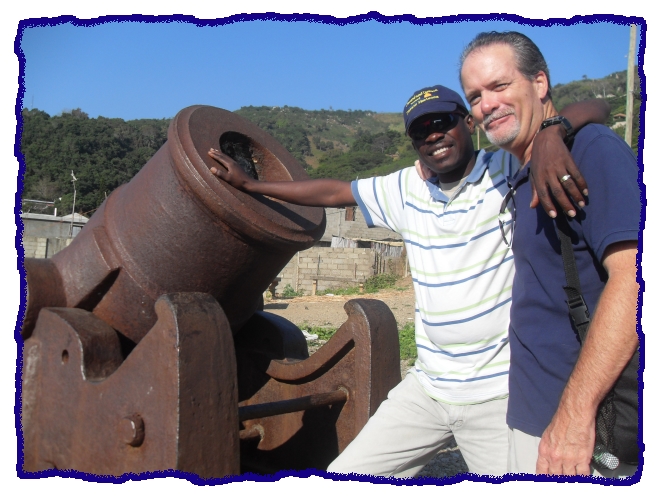 February 2009 – My friend, Commander Presume Racine of the Haitian National Police, with me at Fort Maydi,
north of Cap Haitien, in Haiti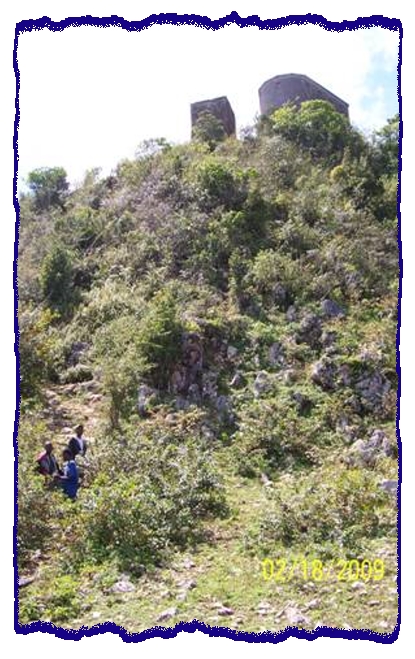 February 2009 – Eyeball recon in
northern Haiti, making the final 700ft ascent up the 
original 200 year-old path to the top of Mt Laferrière. This 
cliff damned near killed me!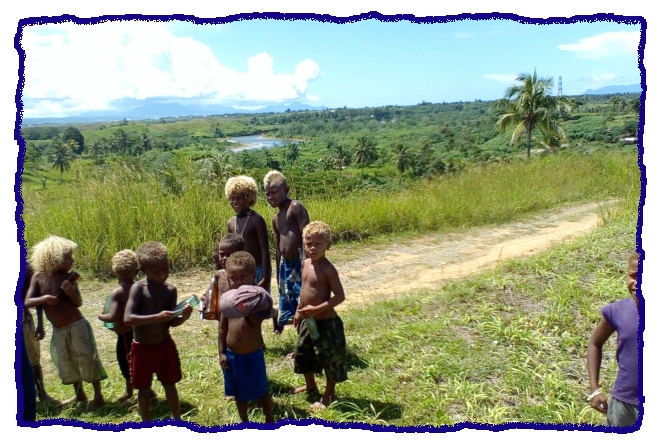 January 2009 – Exploring Bloody Ridge
at Guadalcanal with local children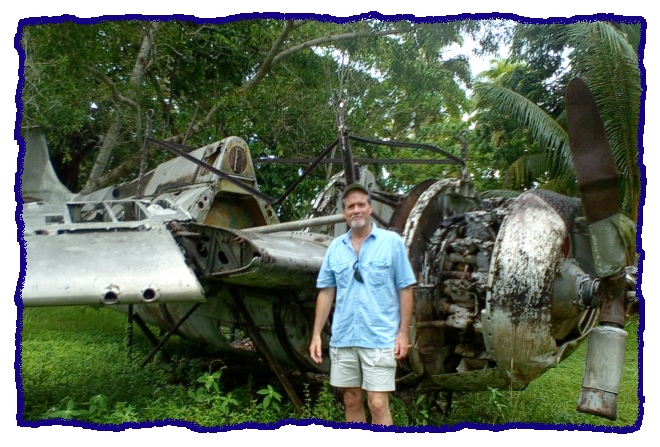 January 2009 – An F4F Navy Fighter from WW2 in the
jungle at Guadalcanal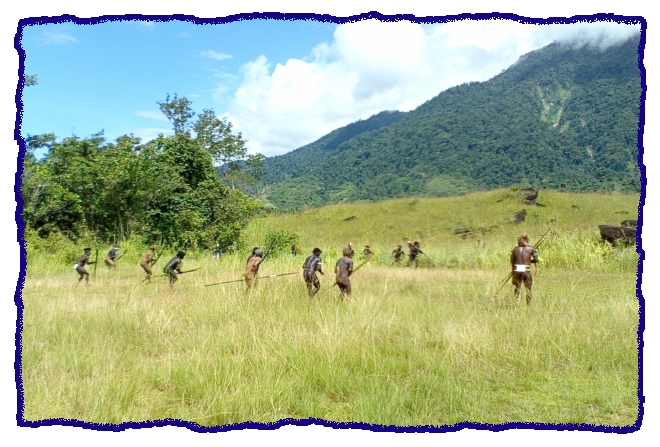 January 2009 – with Dani Sentani tribesmen in the mountains of New Guinea
Peter Wake will be here in 1889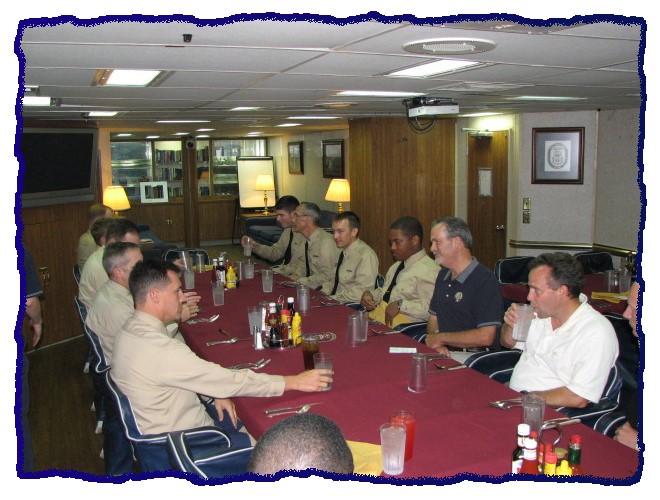 July 2008 — At dinner in the officers' wardroom aboard
USS Vicksburg,
an Aegis cruiser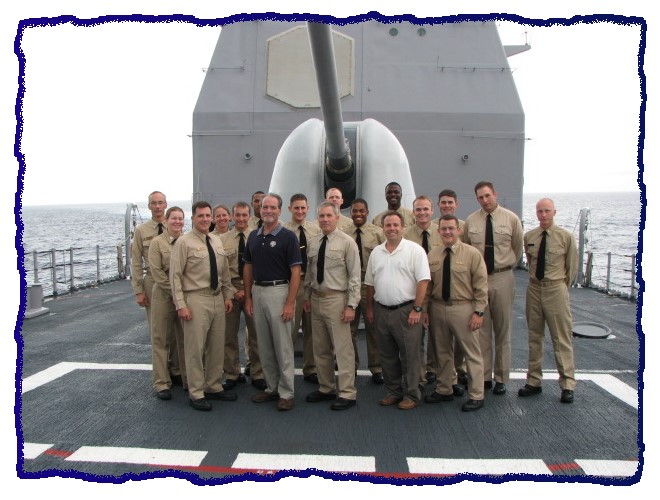 July 2008—HAZE GRAY AND UNDERWAY!
On the foredeck with the officers of USS Vicksburg
during ops in the Atlantic Ocean
Some of my readers at the 2007
Atlanta Book Party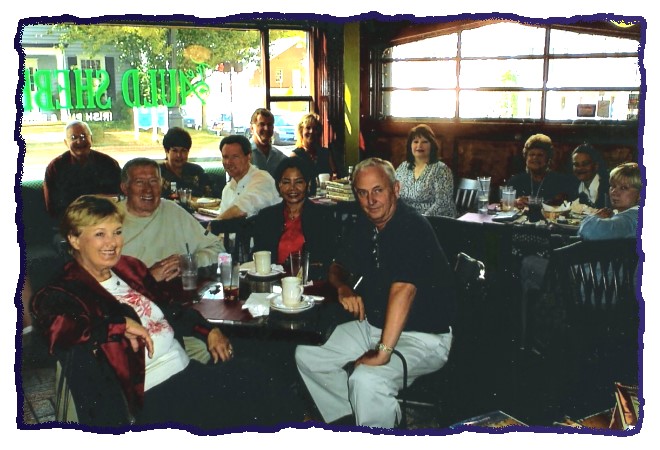 2007 Washington area book party
at Auld Shabeen Pub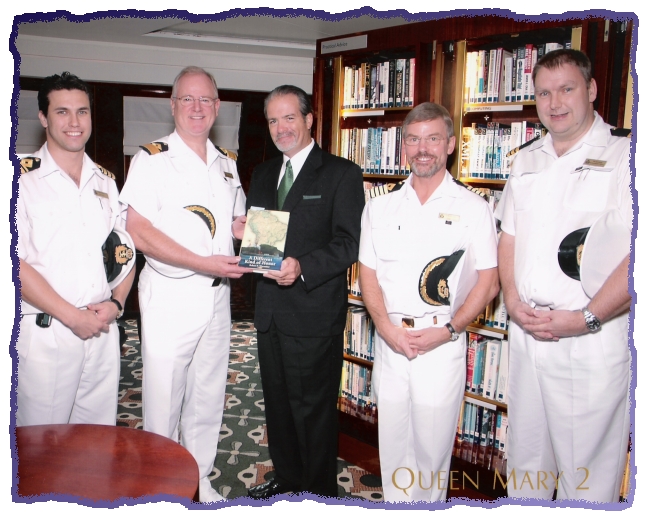 Robert N. Macomber with Commodore Warner and the senior officers of
Queen Mary 2 at the official launching of A Different Kind of Honor at
Latitude 42 degrees North, Longitude 28 degrees West,
on 8 September 2007, steaming for Southampton, England
from New York City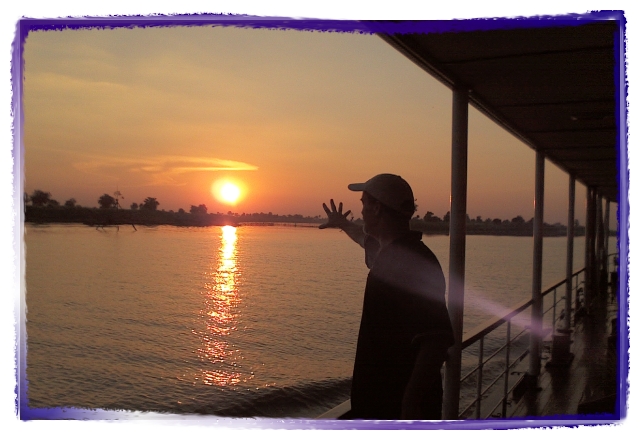 Sunset on the MeKong River, Cambodia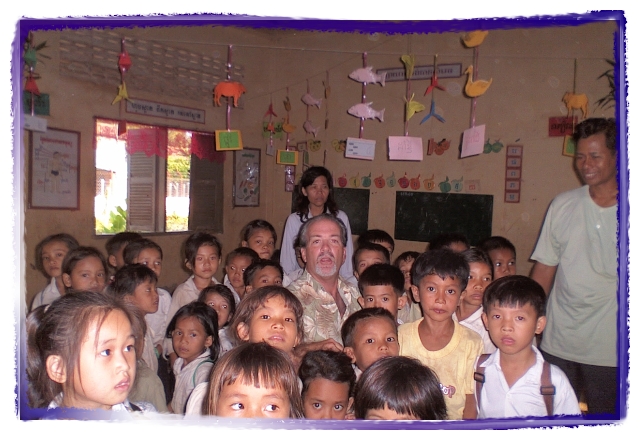 Talking with children at an orphanage along MeKong River in Cambodia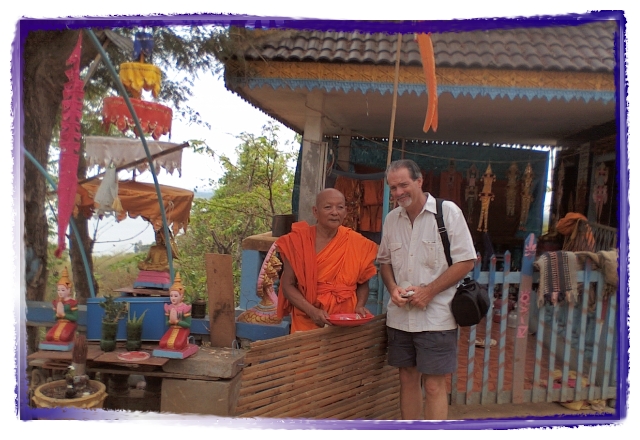 Discussing women and life with an 80 year old monk at Hanchey Wat
in Cambodia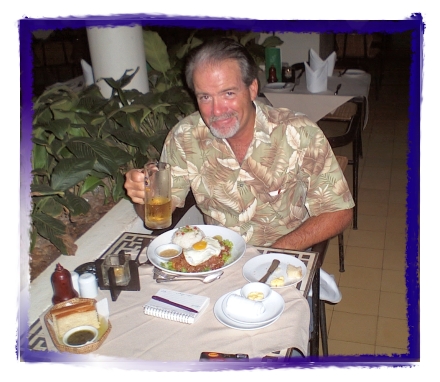 Dinner at the Foreign Correspondents
Club of Cambodia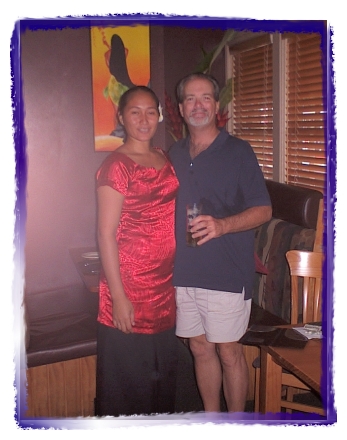 Lunch at the infamous Sadie Thompson's Hotel in
Pago Pago, Samoa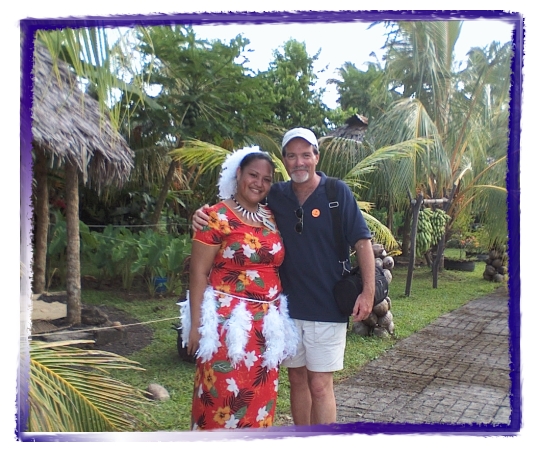 My friend Princess Avisa at Pago Pago in Samoa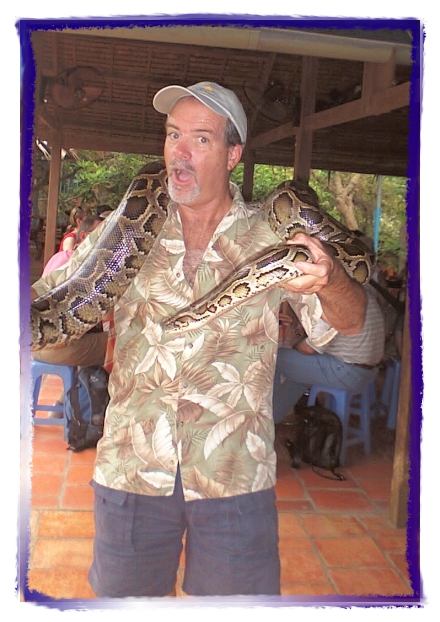 An 11ft python and me after 3 shots of cobra
snake wine at Hoa Phuc, Vietnam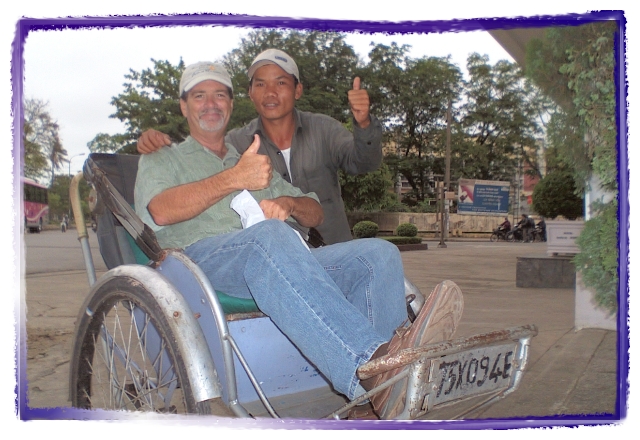 My cyclo-rickshaw driver Hhom and me at Hue, Vietnam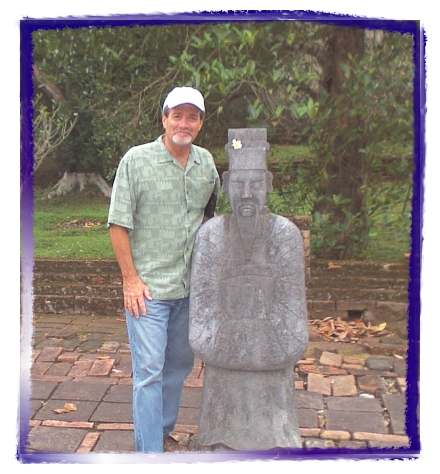 At the mausoleum of TuDuc on the Perfume River
in Vietnam
Bob as King Neptune with a Royal Concubine at
the Equator Crossing Ceremony aboard Silver Cloud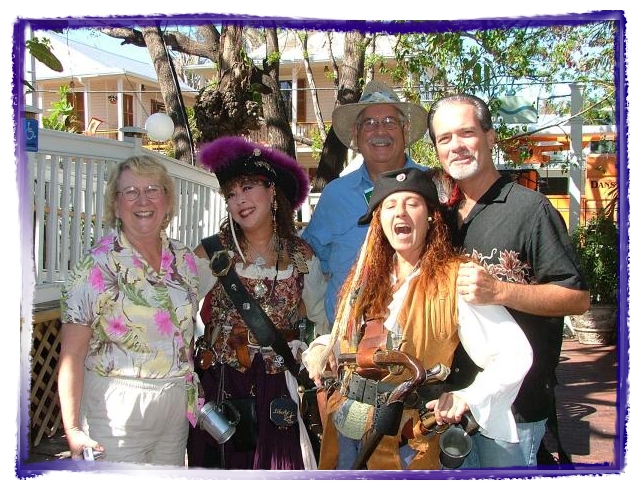 Bob Macomber with his friends and fans in Key West–November 2005 
April 2005 / Marrakech – A Cobra in
my face during an African test of manhood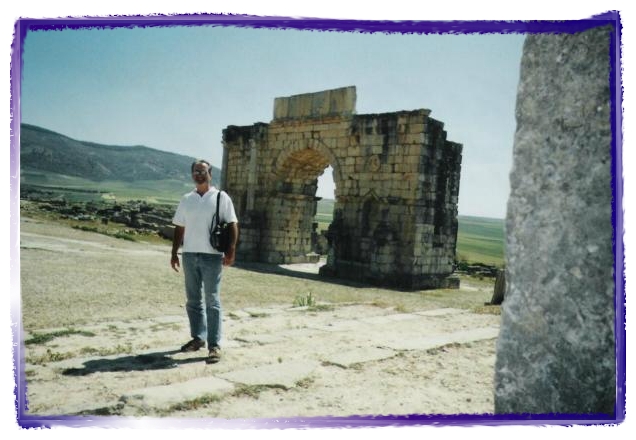 April 2005 – Trekking through the Atlas Mountains of North Africa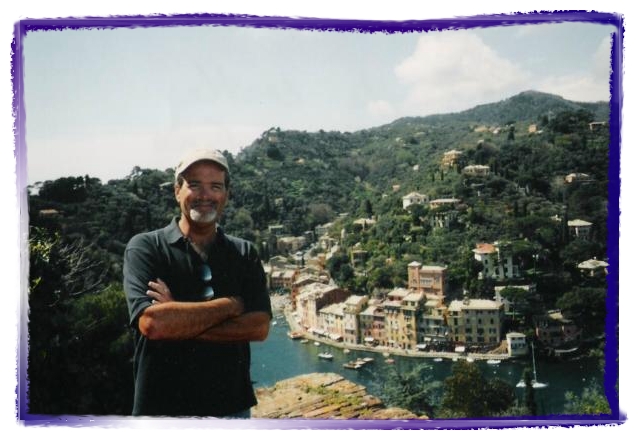 April 2005 – Atop the castle at Porto Fino Italy
Bob Macomber aboard the Chilean Warship Huascar, 
A ship from 1879 that will figure prominently in the novel for 2007. 
February 2004 – QM2 Maiden voyage to Rio de Janiero
Author with Commodore Warick aboard QM2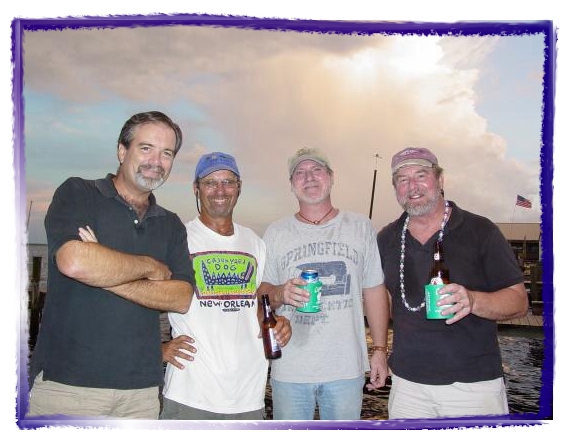 July 
2003 – Bob 
Macomber with his friends, Charlie the Spiderman, Kip, and Brian, of the world 
famous party-show band The Yard Dogs, on the 
dock of the infamous Bert's Bar in Matlacha, Florida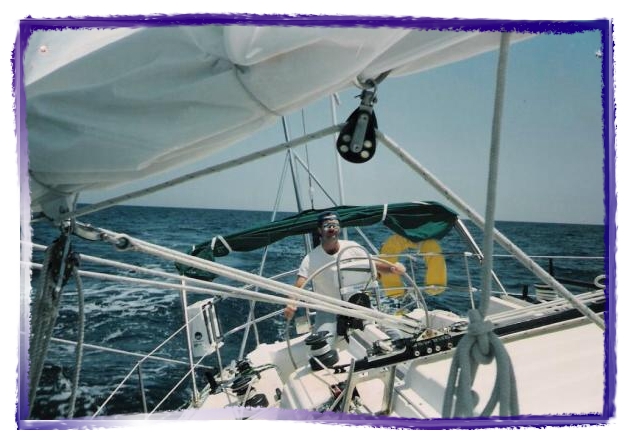 1987 – Author racing off coast of Cuba bound for Mexico