When:
March 30, 2017 @ 9:00 am – 12:00 pm
2017-03-30T09:00:00-04:00
2017-03-30T12:00:00-04:00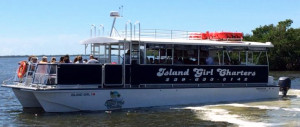 Welcome Aboard!
Island Girl Charters ~ 45 ft. Catamaran
** RESERVATIONS ARE REQUIRED **
Plan your perfect combo; a little heritage and history
while enjoying a unique, outdoor excursion!
** THE 100th ANNIVERSARY OF THEODORE ROOSEVELT'S VISIT TO SW FL **
Come aboard for an amusing tale featuring one of the coast's
most unusual visiting fishermen & conservationists: Theodore Roosevelt.
 Learn about his expedition to these islands in search of
a world record "devilfish", what giant manta rays used to be called.
From living aboard a one room shack on a barge, to meeting the locals,
to finally succeeding in his search, you'll get to imagine our
most colorful president as he was, up close and personal!
No doubt why his legacy on this coast is still strong; most visible to anyone
who ventures forth upon the jade green waters of Pine Island Sound.
Tickets: $100 per person [includes lunch, water, soft drinks & parking]
For voyage details, call Island Girl Charters # 239-633-8142 between 9am-4pm
[reservations required]
Find them at Pineland Marina [13921 Waterfront Dr. Bokeelia, FL 33922]
website: IslandGirlCharters.com