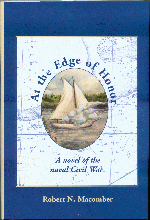 At The Edge Of Honor
The year is 1863. The American Civil War is leaving its bloody trail across the nation and Peter Wake, a third generation New England schooner sailor, is out of work and facing conscription.
"If you've got to go to war, son, go as a sailor. Soldiers live and die in the mud," is the advice from his father. Wake follows that advice and joins the U.S. Navy as a volunteer officer. He is sent to the East Gulf Blockading Squadron, based at Key West, an island off the extreme southern end of Florida.
He is assigned command of the Rosalie, a small armed sloop which only months before had been an enemy blockade-runner in South Carolina. Aboard his new command, Wake learns that the wartime naval glories and exploits he read about in the northern papers don't exist down on the steamy coasts of subtropical Florida. What he finds instead, is a dirty little guerrilla war where nothing is as it first appears, and every decision he makes has unforeseen consequences. An experienced seaman and former merchant marine officer, Wake also learns that a naval officer has to be more than a good sailor, for he carries a special burden in war-the burden of intentionally sending his men into harm's way.
Wake's exploits earn him the recognition of the squadron's senior leadership, and he is ordered on special missions to ascertain intelligence of Confederate operations in the shadowy and sinister world of Havana, center of the Spanish Empire in the Caribbean, and the remote outer islands of the British Bahamas. International intrigue has its own murky reefs and shoals, giving Wake few options and many dangers, as he overcomes situations he would never have dreamed of only months before while on a schooner in New England.
The turmoil in Wake's life comes not only from the sea and the enemy. He falls hopelessly and foolishly in love with Linda Donahue, the daughter of a Key West pro-Confederate zealot. Both lovers face the antipathy of their peers for having an affair with the "enemy", but cling to each other as the only hope of tranquility in an insane world at war.
Throughout it all, Peter Wake demonstrates that most salient of American characteristics, the ability to adapt and overcome incredible challenges. It is while facing those challenges, both afloat and ashore, Peter Wake makes decisions taking him right up to the edge of honor.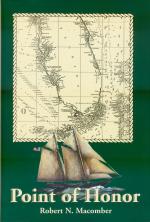 Point of Honor
Peter Wake has made his mark upon the United States Navy's East Gulf Blockading Squadron, received a promotion, and been given a larger command, the schooner St. James. Wake proceeds to fulfill his assignments, but soon finds himself afoul of senior officers on his own side, political appointees to Army commands whose mistakes are measured in blood.
His personal life takes a new turn, as love conquers animosity in a unique way which only Key West could provide. His lover becomes the anchor and soul of his life, as Wake continues to accomplish daunting missions, including some that have no apparent solution.
Wake's reputation as an intelligent officer, who can face any situation and overcome it, gets its greatest challenge to date as he puts everything on the line ~ all for a point of honor.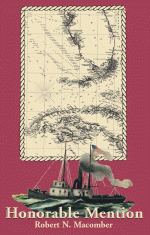 Honorable Mention
Peter Wake's hopes for a quick and peaceful end to the Civil War disappear in the desperate turmoil of 1865 Florida and the Caribbean.
Old acquaintances, both friend and adversary, come back into Wake's life in ways he didn't anticipate, while murky intrigues of sinister characters keep the danger real and the future uncertain.
And of course, as always, Peter Wake is the one man who makes things happen when no one else can.
A Dishonorable Few
Peter Wake, U.S.N. is back, and the year is 1869. Wake is ending his very first tour of shore duty at Pensacola Navy Yard. He'll be heading down into Central America as executive officer aboard a gunboat on a mission to find and end the maniacal rampage of a former US naval officer who became a mercenary, then turned bad — very bad.
The search takes Wake from the perilous alleys of Cartagena, Colombia and the fetid jungles of Panama to the Moskito Coast of Nicaragua and the smoky villages of Haiti. Along the way, he comes across cutthroats in Colombia, brave Indios in Panama, good men in the Royal Navy of Great Britain and the Spanish Navy, two-faced politicians from several countries, the most evil enemy he has ever faced, and a treacherous man in his own ship. Even while worrying about his marriage back home, he braves a daring rescue attempt on a lee-shore, shot and shell from desperate pirates, uncharted reefs on desolate coasts, international intrigue involving the potential canal across the Isthmus, a moribund American naval administration, and, in the end, his own court-martial in Washington, D.C.
In researching and writing this novel, I made a six-week, 10,000-mile voyage aboard a German freighter along the Caribbean and Pacific coasts of South America. On that voyage I experienced modern pirates attempt to board the ship, some very unsavory characters ashore in Colombia, a Force-9 storm at sea, and numerous other adventures. For this novel, I've also relied upon my experiences in Panama during an expedition about nine years ago, during which I journeyed through the jungle to Porto Bello and made my way to the remote San Blas coast, where I spent time with the fascinating Cuna Indians.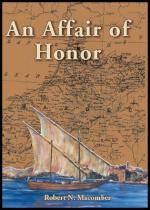 An Affair of Honor
At the beginning of this fifth novel in Robert N. Macomber's award winning Honor Series, it's December 1873 and Lieutenant Peter Wake is the executive officer of the USS Omaha on dreary patrol in the West Indies. Lonely for his family, he is looking forward to returning home to Pensacola in a few months and rekindling his troubled marriage with Linda.
But fate has other plans for Wake. He runs afoul of the Royal Navy in Antiqua, and is declared a spy when he stumbles on shocking new information about a British ship there. A beautiful French woman enters his life in Martinique. Then he's suddenly sent off on staff assignment to Europe, where he is soon immersed in the cynical swirl of Old World politics.
After meeting up with one Peter Sharpe Allen, a Royal Marine who talks him into a side trip in Seville, Wake finds himself running for his life after getting embroiled in Spanish politics. He faces diplomatic intrigue in Genoa and is caught up in French, German, and British affairs of state in a castle down the coast at Porto Fino. Then his real test comes when he and his old friend, Sean Rork are sent on a no-win mission to rescue missionaries in northern Africa.
Not the least of his troubles is Madame Catherine Faber de Champlain, wife of a French diplomat. Her many charms involve Peter Wake in an affair of honor.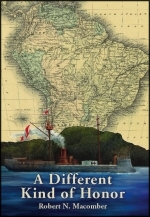 A Different Kind of Honor
It's 1879 and Lt. Cmdr. Peter Wake, U.S.N., is on special assignment as the official American 'neutral' naval observer to the War of the Pacific raging along the west coast of South America. Chile, having invaded the coast of Bolivia, has gone on to overrun Peru and controls the entire southeastern Pacific region. Washington D.C., concerned over European involvement in the war and the French effort to build a canal through Panama, has sent Wake to observe not only the naval war, but the political intrigues of the region as well.
During Wake's dangerous mission – as part naval observer, part diplomat, and part spy – he will witness history's first battle between ocean-going ironclads, ride the world's first deep-diving submarine, face his first machine guns in combat, discover an unlikely bond with an international brotherhood, advise the French trying to build the Panama Canal, and run for his life in the Catacombs of the Dead in Lima, Peru.
In the War of the Pacific, Peter Wake confronts a very different kind of honor, one which will continue to haunt him. And while he is away, Wake's family back home in Washington copes with their own catastrophic event, eventually change their lives forever.
The Honored Dead
This seventh novel of the award-winning Honor Series finds Lt. Cmdr. Peter Wake, Office of Naval Intelligence, aboard a riverboat on the Mekong River, in 1883 French Indo-China. The mission sounded simple in Washington: deliver the American president's reply to a secret naval offer from the king of Cambodia, while assessing the region's political-military situation. Wake figures it'll take two more weeks before he'll be homeward bound.
Six months later, after nearly dying at the hands of opium warlords, Chinese-Malay pirates, and French gangsters; after suffering starvation at sea, nearly falling in love with a beautiful widow, surviving a typhoon, being marooned on a beach, and enduring a horrific full-scale battle, Wake is still there. Exhausted, frustrated and scared, he and his motley band of companions, can now testify nothing is simple in the Kingdom of Cambodia and the Empire of Viet Nam.
This story illuminates the beginning of the bloody cultural clash which lasted for the next hundred years in Southeast Asia, with each side determined to avenge their honored dead.
In addition, there is a huge surprise at the very beginning of this novel, one meant to please and intrigue long time and new readers alike, kindling a mystery it may take years to solve. All in all, this was the most fascinating yet dangerous novel, to date, for me to research and write, compelling me to journey by riverboat from the Delta country in Vietnam, far up the Mekong River and into the interior of Cambodia. My trek echoed the journey Wake made himself, one-hundred and twenty-six years ago, almost to the day of the book's release. Just as with Peter Wake, it changed my life forever.
The Darkest Shade of Honor
This eighth novel of the Honor Series begins with Commander Peter Wake, of the U.S. Navy's Office of Naval Intelligence, at New York City in 1886, where he meets two intense young men who will dramatically influence his life: Theodore Roosevelt and José Martí. Presented with a secret coded message, he deciphers it for Roosevelt and soon wishes he hadn't.
Returning to Washington D.C., he is assigned to follow up on the secret message and uncover the extent of Cuban revolutionary activities between Florida and Cuba, along with investigating rumors of Spanish government agents operating in Key West. Most of all, this is to be accomplished quietly, to prevent international embarrassment for newly elected President Grover Cleveland, the first Democrat in the White House in 25 years.
The investigation takes Wake to places he thought he knew so well: Havana, Key West, Tampa, and the islands of Florida's southwest coast. But the further he delves, the more he realizes how much he doesn't know. He's drawn inexorably into the center of the most catastrophic event in Key West history, when over half the city was destroyed.
And in the end, Peter Wake makes a decision which may well shock his readers – one involving the very darkest shade of honor.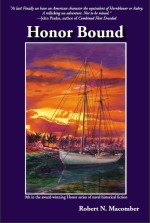 Honor Bound
It's June, 1888. Commander Peter Wake, U.S. naval intelligence agent, is in Florida culminating an espionage mission to learn Spain's naval readiness in Cuba and looking forward to a long delayed leave. But then a beautiful woman from his past shows up, begging him to find her missing son. A man like Wake has no choice, and sets off with an odd assortment of companions across Florida, through the Bahamian islands, and deep into the dank jungles of Haiti.
His entourage includes a Smithsonian ethnologist, a Bahamian Seminole sailor, Russian spies, and a Polish-Haitian soldier. Overcoming storms, mutiny, shipwrecks and death, Wake discovers the hidden lair of an anarchist group planning to wreak havoc around the world – unless he stops it.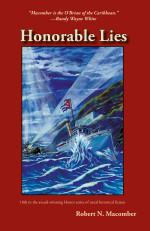 Honorable Lies
It's September 1888, and Commander Peter Wake, Office of Naval Intelligence, has been ordered to salvage his failed espionage operation against the Spanish Navy in Havana. His network of spies in the city is compromised, international political tensions are escalating, the U.S. presidential election is looming, and Wake has five days to locate and rescue two of his network who are missing and assumed captured by the Spanish.
Wake immediately realizes his old nemesis Colonel Isidro Marrón, head of the dreaded Spanish counter-intelligence service, has set the perfect trap to kill him. Wake's covert American team of experts in linguistics, chemistry, and lock picking, are soon hard pressed to just stay alive as they struggle to carry out his hastily conceived plan.
And in the midst of all this chaos, Wake saves the lives of Havana's Spanish elite, forms a nervous friendship with the colonial governor, receives an odd message from his Cuban revolutionary friend José Martí, encounters the shadowy world of international Freemasonry, and forms an unusual bond with the legendary actress Sarah Bernhardt.
But can Peter Wake really trust anyone, or anything, in Cuba?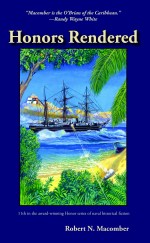 Honors Rendered
It's early 1889. Germany is trying to add the islands of Samoa to its burgeoning Pacific empire. For six months, German and American naval forces have been engaged in an escalating war confrontation at the main Samoan island of Upolu. Warships are at battle stations. Reinforcements from both nations are on the way. The press in Berlin and San Francisco are calling for national honor to be defended. At any minute, open combat may erupt. All it will take is one miscalculation …
Commander Peter Wake, Office of Naval Intelligence, has been given an impossible assignment by President Grover Cleveland, whose administration will end on March 4th, and who plans on running for the presidency again in four years. Cleveland doesn't want a war to be the legacy of his first term in office. Wake is ordered to get to Samoa and clandestinely accomplish one of two things: somehow prevent war from breaking out, or win it decisively at the outset to prevent it from spreading around the globe.
Enlisting the help of an unlikely team found along the way – a Hawaiian artillery officer, a renegade Methodist minister and a beautiful shyster – Wake is led into situations he never anticipated, for the South Pacific is a very dangerous place indeed. And in the end, he faces a foe more daunting than any before in his life.
The story in Honors Rendered is taken from the real history of the South Pacific, where the clash of Germany and the United States predated World War I by 25 years. The fascinating story of the islands and people of Hawaii, New Guinea, the Solomon Islands, and Samoa are all part of the novel. It took seven years to research and write this tale of treachery, bravery, nobility, and greed, including six voyages throughout the South Pacific. It was finally completed in 2012, after living for six weeks at Upolu and Pago Pago in Samoa to finish the manuscript.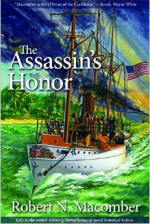 The Assassin's Honor
A Spy Thriller Right Out Of History
In December 1892, all is well for Peter Wake, U.S.N. He has command of a new cruiser in the Caribbean and a beautiful lover in Washington. Everything changes when a passenger is found murdered on a steamer at Key West, and Wake discovers a
 foreign assassination team will strike a world leader in eight days.
But who, and where?
Facing a tangled web of Germans in Mexico, rebel Cubans in Key West, and Spanish secret agents in Tampa, nothing is as it seems. Time is running out … This twelfth novel in the Honor Series was inspired by the real events in 1892, which changed world history.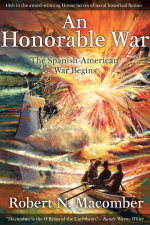 An Honorable War
February, 1898. As tensions with Spain reach fever pitch and the New York press calls for an honorable war to liberate Cuba, Captain Peter Wake, U.S.N., personal aide to Assistant Secretary of the Navy Theodore Roosevelt, is immersed in a clandestine espionage mission deep inside Cuba. Beset by unexpected family dilemmas and fleeing from foes closing in on him ashore in Havana, he finally delivers his purloined top-secret Spanish documents to the captain of the anchored USS Maine. But moments after Wake leaves the ship, Maine explodes. In that instant, the world is changed forever and Peter Wake is back at war.
His first combat command is an improvised squadron given what seems a simple task: deliver exile Cuban volunteer reinforcements to a remote area of Cuba, support them ashore for three days as they unite with the Cuban Liberation Army, then commence an inshore blockade of the coast. He quickly learns that nothing is as it was described in the orders from Washington. He and his sailors are soon facing overwhelming odds from the enemy and treachery from within. Certain death and defeat are only minutes away for the Americans.
Will Wake's innovation, deception, and ruthless efficiency be enough? Will his long-earned reputation for personal honor be one of the first casualties of this new war?